What Does the Bible Say About Christmas? It just so happens this year that Christmas falls on a Sunday, so I'm sure church services around the world are crowded and people and their families will enjoy much of what will go on today.
I do not doubt Christmas is a great time of the year.  People seem to be smiling, happy, and in the giving spirit.  I guess I would smile if I were getting days off from my job, and be happy to see family I have not seen much of the year, and in that light give a bit, especially if I were blessed to give.
I personally take nothing away from this time of year except all the misconceptions associated with it.
-this is BibleStudyMinistry.com an Online Bible Study Supplement Source-
To begin with, the Bible does not say anything about Christmas; it does not even use the term or word.  This event is something that was added.  The Bible does teach against adding or subtracting from the scripture or doctrine (Deuteronomy 4 v2, Revelation 22 v19).
In the world we live in today, you can "Google" the phrase "the history of Christmas" or "pagan roots in Christmas" and learn about this "holiday" to much end. There is much to be shared, but with all that, what does the Bible say about Christmas?
What Does the Bible Say About Christmas?
Let's begin with Jesus who taught His disciples not to allow traditions, family traditions, and cultural customs to supersede the laws of God (Matthew 15 v3).  This is a question I had to ask myself and I do it every year.  Am I going to transgress God's commandment in order to maintain a tradition?
Christmas is not just a family tradition or cultural tradition, it has been done for years and is supported in the Bible right?  Throughout the Bible, pagan and idol worship was introduced to the children of Israel by the Egyptians and the Canaanites, and other nations.  Sun worship was prevalent and the Gentiles (Europeans) really picked this us to mass avail.
It is known as the Winter Solstice.
It is pagan practice attempting to assemble itself into Christianity in the name of bringing people to Christ.  I certainly can applaud the effort and the thought process behind this method and psychology.
However, Jesus Christ is not as flexible as many may think He is.  What He desires will stand, and one thing He commanded was to refrain from what is a part of the Christmas celebration.
In Jeremiah the 10th chapter it says:
 1Hear ye the word which the LORD speaketh unto you, O house of Israel:

 2Thus saith the LORD, Learn not the way of the heathen, and be not dismayed at the signs of heaven; for the heathen are dismayed at them.

 3For the customs of the people are vain: for one cutteth a tree out of the forest, the work of the hands of the workman, with the axe.

 4They deck it with silver and with gold; they fasten it with nails and with hammers, that it move not.
In paraphrasing the first four verses it would go a bit like this.  The ways of the heathen (nations) are vain.  Do not learn or do what they do, do not become alarmed at the things going on in outer space.
Things like the sun showing less and less in the winter months.  Also the longest day after the shortest day of the year; do not be dismayed at these things says the Lord.
What Does the Bible Say About Christmas?
The nations are alarmed and fascinated with these things.  Further, the nations have customs that are vain; they cut a tree out of the forest (today we simply go purchase the Christmas tree), and they set it so it does not fall, and deck it with silver and gold bobbles and make such a beautiful tree, I may add.
However, the God of Heaven wishes and commands His children to do no such thing.
Yes it is fun, yes it is a good time with friends and family, but it is also an offense to the Most-High (according to the Bible).  This is what the Bible says about Christmas.  Am I suggesting you do not celebrate Christmas?  I am suggesting you examine it very well for yourself and follow the Lord Jesus as close as possible.
I'm sure many Christians may not see any harm in what is supposed to be a great occasion, the birth of Christ (Matthew chapter 2 v11).  I can understand.  We must remember a little leaven leavens the whole lump (1st Corinthians 5 v6).  We began, biblically, with the birth of Christ, however, we selected a pagan day to celebrate it on.
What Does the Bible Say About Christmas?
We then introduced Santa Clause (Kris Kringles), elves, reindeers, giving gifts to each other and not Christ, commercial profit, marketing of merchants, sales, carols that have little to do with Christianity, and after it all what have we done?  Nothing, the custom of the people is vain.
Enjoy the time with family and friends, and enjoy your strength of knowledge.  God bless you in Jesus' name.  Amen
Seth
This is not meant to offend even though we know that revealing the truth about anything people take so passionately can. Raw truth can give a sore and thus offend many. Exposing Christmas has plenty of implications from economic to emotional, and we understand all of this.
We simply want to engage people in the facts and truth about it from a biblical (Bible Study) perspective.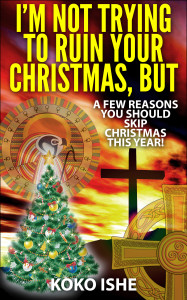 In addition, we have a great book out cleverly titled, I'm Not Trying to Ruin Your Christmas, BUT…: A Few Reasons You Should Skip Christmas This Year!
This book gives about as thorough of background on Christmas as you'll ever see, and it still allows you to enjoy the season, if you still desire. Get a copy for yourself and your family today!
Share the article on your favorite social media outlet; help the Word flow out into all nations!