Deuteronomy Chapter 24 Summary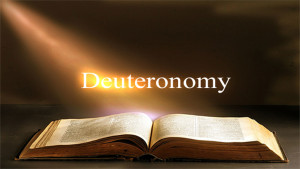 Chapter 24 begins with a statute or law that Jesus the Messiah from God came in the flesh and reversed.
The law was the bill of divorcement.
In addition, it is written in this chapter that a divorced woman can remarry if she is put away by her husband, yet Jesus came in the flesh and cancelled that thought (Matthew 19:8).
In this chapter, it is written a husband cannot return to his ex wife once she has been put away (by him) and she remarries and becomes divorced again.
The chapter transitions to penalizing, with death, of anyone who "steals people" and sell like merchandise. This is captive slavery. Such a person is to be put to death.
Oppressing the Poor and Needy
God gave some more rules and parameters around pledging and oppressing an hired servant who is poor and needy. If he cries out to God, God will hear and it may turn into sin for the offender.
Dying for Your Own Sins
Speaking of sin, the person who commits sin is the person who will die. Children aren't to be killed for their parent's sin and vice versa.
Perverting judgment is something people get caught up in and God forbids it; especially against the fatherless and widow.
Instead, do things to help the fatherless and widow and God tells Israel to be emphatetic because Israel were bondmen in Egypt and did not like the treatment.
This is chapter 24 of the book of Deuteronomy.
We pray the Father to add blessings to the reading and doing of His Holy Word through His Son Jesus the Messiah. Amen!
We welcome you to join Our Newsletter for 9 Special Studies and a New Study Every Week Sent to Your Email Address in text, audio, or video form. Also you'll be first to know when we have live Bible studies online or prayer calls!
BSM on Facebook (like this, like us on FB) 
(have a twitter account? Follow us)
Share the article on your favorite social media outlet; help the Word flow out into all nations!