Moses and Elijah Were Seen in a Vision
Plenty of people make the honest (and sometimes not so honest) mistake of thinking Moses and Elijah are alive in Heaven right now. Thus they believe everyone else who died are in Heaven alive right now also.
This is unfortunately not the way the scriptures or Word of God describes it. These men have died, but Jesus was showing His disciples a vision of the future in His own Kingdom. See the scriptures below Matthew chapter 16:
27 For the Son of man shall come in the glory of his Father with his angels; and then he shall reward every man according to his works.

28 Verily I say unto you, There be some standing here, which shall not taste of death, till they see the Son of man coming in his kingdom.
Now the Bible is broken up in verses and chapters, but when originally written, the writer just wrote (according to scholars). Scholars then came along and broke the writings up as intelligently as they could for us today.
This included the use of today's grammatical practice. The scene in the end of Matthew chapter 16 carries on right into chapter 17, if you read it directly without a pause or break of a new chapter. See the rest of this scene now in Matthew chapter 17
Peter James and John in a Vision
1 And after six days Jesus taketh Peter, James, and John his brother, and bringeth them up into an high mountain apart,

2 And was transfigured before them: and his face did shine as the sun, and his raiment was white as the light.

3 And, behold, there appeared unto them Moses and Elias talking with him.

4 Then answered Peter, and said unto Jesus, Lord, it is good for us to be here: if thou wilt, let us make here three tabernacles; one for thee, and one for Moses, and one for Elias.

5 While he yet spake, behold, a bright cloud overshadowed them: and behold a voice out of the cloud, which said, This is my beloved Son, in whom I am well pleased; hear ye him.

6 And when the disciples heard it, they fell on their face, and were sore afraid.

7 And Jesus came and touched them, and said, Arise, and be not afraid.

8 And when they had lifted up their eyes, they saw no man, save Jesus only.

9 And as they came down from the mountain, Jesus charged them, saying, Tell the vision to no man, until the Son of man be risen again from the dead.
At the end of chapter 16, Jesus said, "Of truth, there are some standing here who will not die until they see Me coming in My Kingdom." The prior is a bit of a paraphrase by BSM, but as we go right into chapter 17, the story continues, six days later.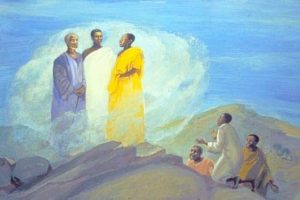 Jesus took Peter, James, and John to a high mountain away from everyone else. At the end, at verse 9, Jesus tells them not to tell anyone the "vision" they saw, until He has risen from the dead.
They didn't see anything but a future vision and not the actual Moses and Elijah in heaven. These two prophets of the Lord are indeed still asleep.
More on this in another post, for now praise the Lord through His Son Jesus the Messiah, and bless His Holy name. Also, blessings to you and to see you again.
BibleStudyMinistry
(your bible study supplement source)
=
Share the article on your favorite social media outlet; help the Word flow out into all nations!