Genesis Chapter 22 Summary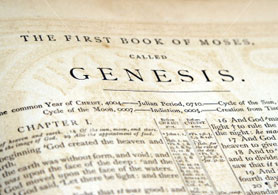 In chapter 22, God comes to Abraham to prove Abraham's allegiance and commands Abraham sacrifice his "only" son Isaac to God.
Abraham does not hesitate, waking up early to get all the necessary things to do the command of God.
Abraham takes the boy up to the location. His son Isaac asks him, "where is the lamb for a burnt offering?" Abraham simply replies that God will provide a lamb for Himself.
He binds Isaac gets the knife and proceeds to sacrifice his son to God, only seconds away before an angel commands he stop. The angel also declares that by his actions, Abraham proved that he fears God.
God blesses Abraham again for this. When Abraham looked up he beholds a ram and offered that to God instead of his son. God kept calling Isaac Abraham's "only son" even though Ishmael is also Abraham's son.
Isaac was the son of God's covenant. The chapter ends with BLESSINGS being poured on Abraham for obeying God's voice and not withholding his "only son" from God.
Please it to the Most High God to add blessings to the reading and doing of His Holy Word through His Son Jesus Christ. So Be It!
You're welcomed to join Our Newsletter for 9 Special Studies and a New Study Every Week Sent to Your Email Address in text, audio, or video form. Also you'll be first to know when we have live Bible studies online or prayer calls!
Read Genesis Chapter 22 Here Now!
(have a twitter account? Follow us)
Share the article on your favorite social media outlet; help the Word flow out into all nations!