Deuteronomy Chapter 6 Summary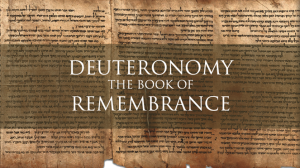 Chapter six of Deuteronomy begins with the commandments, statutes, and judgments God commanded Israel to keep in the land they're going to possess.
If they keep them, they will increase mightily in the land, but only if they keep and do the commandments of God. The very first thing is that they are reminded of is that there is no division in God.
Number two, Israel is to love the Lord with all their heart and soul and might. It was and is vital to teach the word diligently to their children at all times. As done with affirmations, the Word of God is to be hung around the house so one sees it at all times.
God also reminds them when they take over the land that they did not build or cultivate, they are not to forget their God who gave the land to them. Instead, they should continue to fear, serve, and keep His name in their mouths.
God is a jealous God, slow to anger, but His anger can be kindled and it will destroy the offender. Israel is not to tempt God but to simply and diligently keep His commandments, testimonies, statutes, and judgements.
Tell your children about the goodness of God to you and your people. This was the task of Israel, this is chapter six summary.
We pray the Father to add blessings to the reading and doing of His Holy Word through His Son Jesus the Messiah. Amen!
We welcome you to join Our Newsletter for 9 Special Studies and a New Study Every Week Sent to Your Email Address in text, audio, or video form. Also you'll be first to know when we have live Bible studies online or prayer calls!
BSM on Facebook (like this, like us on FB) 
(have a twitter account? Follow us)
Share the article on your favorite social media outlet; help the Word flow out into all nations!