We are here with Genesis chapter 38 summary. This chapter began with the patriarch Juda, the son of Jacob. Juda, now a grown man, began to deal with the Canaanites of the land and even selected a daughter of a man named Hirah.
Her name was Shuah. They married and had children, three boys named Er, Onan, and Shelah. Juda gave his son a wife named Tamar. Er was wicked before the Creator and the Creator had him killed. Onan was then, by tradition, supposed to raise up seed, or a child, for his brother Er with his widow Tamar. He refused and the Creator killed him too.
Genesis Chapter 38 Summary
As Tamar waited for Shela to grow up, Juda forgot to give Shela, his third son, to her. Tamar took matters in her own hands and pretended to be a prostitute. Juda's wife Shuah passed away and while being comforted, Juda went in to lay with Tamar (who presented herself as a prostitute).
She became pregnant and this caused problems because she wasn't supposed to be pregnant unless she was "playing the whore," according to tradition. However, she kept several items of Juda' as collateral payment. When the off-brand paternity test was conducted, Jerry Springer would have proclaimed to Juda, "You are the father!"
She went from about to be burnt to being a hero. Juda realized that she was being more righteous than he was. She produced twin sons named Pharez and Zara. This is the summary of Genesis chapter 38!
Selah
Thank you for joining us today. It's always a pleasure to have you. BibleStudyMinistry.com (BSM), believes the Bible is one assimilated account leading and pointing to Yashaya the Messiah. Also to His Kingdom on the Earth, and His Royal Family.
Not on our exclusive newsletter? Sign up for PDFs, live Q&As, and more!
=
Leave a comment below of your thoughts…
Or do it here on Google – Facebook or Twitter. We're also on Instagram…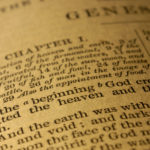 Share the article on your favorite social media outlet; help the Word flow out into all nations!