Abraham Died in a Good Old Age
In Genesis chapter 25, the Bible says Abraham, the father of the faithful, died in a good old age. This means he was an old man full of years when he took his rest.
When he expired (died), he was gathered or buried with his people, which is another way of saying he went the way men before him went, which is death.
What's more, is that his sons, both Isaac and Ishmael, came to bury him and they did in a cave of Machpelah. This cave was in a field of Ephron, who was a son of Zohar, a Hittite.
This was the same field Abraham purchased to bury his wife, Sarah. The purpose of this posting is to shed light on the phrase Abraham's bosom discussed in Luke chapter 16, where the beggar, Lazarus, was reported to have gone.
Based on our series on death/the dead/the funeral/going to heaven, whatever you want to call it, no man has ascended into heaven except the one who came down from heaven, Jesus Christ.
In addition to this, Jesus says He will raise all men up at the last day. A great question at this time to petition is, where is Abraham and his bosom, and "Lazarus," for that matter?
They have both returned to dust, in the grave, waiting on their reward. This may be different than mainstream media, where many people who lose loved-ones are quoted saying, "I know she's looking down on me right now."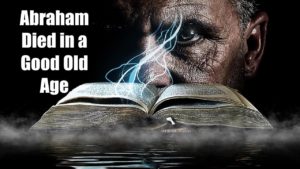 Nevertheless, it is written, in a book at least 3,000 years old that the dead know nothing. The eye-witness accounts have to account for something.
Respectfully, it is more reliable than any pastor or priest this world can produce, because it is the Word of God. I'm sure all men of God would agree.
We'll be continuing series in future postings. Praise God in Jesus name, and be sure to view the published post prior to this on Abraham's bosom and Lazarus.
See the scriptures before for Genesis chapter 25
7 And these are the days of the years of Abraham's life which he lived, an hundred threescore and fifteen years.

8 Then Abraham gave up the ghost, and died in a good old age, an old man, and full of years; and was gathered to his people.

9 And his sons Isaac and Ishmael buried him in the cave of Machpelah, in the field of Ephron the son of Zohar the Hittite, which is before Mamre;
Shalam
Elder Ishe
BibleStudyMinistry, your online, bible study supplement source!
Share the article on your favorite social media outlet; help the Word flow out into all nations!