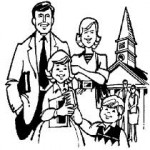 This topic or subject will be debated until Jesus Christ comes back to settle the matter with mankind.  Some believe you simply have to have a relationship with Christ, while others believe you must come to church weekly in order to please God.  The Bible will assist us on the way we should go in this matter.  In many things that are required, God will only require it of us if we are in position to do the matter.  For instance, if you have no increase (income) then it is safe to presume you may not be able to tithe.  Likewise if there is no physical church near you that honors the ways of God; again it would be a logical safe presumption that you do not have to attend.
However, the age we've moved into is digital and some sixty years ago you could attend church via radio.  Then it moved to television, now you can attend a church service via internet.  I'm not in the Lord's place to say each of these are okay; but I will present scriptures that support attending church regularly, which is every week on the Sabbath day (specifically).
Why did I mention the Sabbath day.  Because the Lord said in six days everyone can work and do all their labor, but the seventh day is the Sabbath of rest, it is also a Holy convocation ((gathering) Leviticus 23 v3).  Here we are clearly told to rest from our normal personal events and labor, and only pertain to the Lord and a Holy gathering is included.
The question can now be asked can we gather together digitally as in the internet, television, or radio.  I'm sure that should be done if the "in person" option is not available to you.  We can praise God all the time, but scriptures do tell to praise the Lord in His sanctuary (Psalm 150 v1-2).  To really understand this, we must first understand the history of the church.  When the children of Israel were brought out of Egypt, the Most High God adopted them and no temple was mentioned.  Jesus Christ was with them in a cloud by day and in a pillar of fire by night.*
Once the children of Israel sinned and the priesthood was established, it was at that time the Lord ordered a tent to be made for Him to dwell so that the non-rebellious children who wanted to go near the Lord could go out of the camp (meaning away from the common rebellious misbelieving people) and go serve their God, Jesus (Exodus 33 v7).  This is also what Paul meant for us today because many of my biblical scholar friends may say that going to church was a Levitical priesthood order.  In Hebrews 13 and verses 13, says that we also in like manner must go outside the normal camp.  Jesus was taken outside Jerusalem, outside the camp, when He was sacrificed (killed).
Going outside the camp has a larger spiritual meaning that we are not going to study today, but over all as it pertains to the question, does the Bible say we have to go to church, we do.  Going to church or to a Holy gathering is our way of getting away from our normal schedule, our normal people, some who do not believe on Jesus Christ, and getting closer to our God away from the camp.  There we will have a Holy gathering with like-minded people and praise our Lord and God, Jesus.  I truly pray blessings of peace, wisdom, understanding, and prosperity to you always, in the name of Jesus.  Amen
Koko Ishe
(Visited 238 times, 1 visits today)