Greeting from Bible Study Ministry, we're glad to have you visit our website. Below we have  we have our daily wisdom for the day with the leading subject titled According to His Works and we pray it is helpful to your walk with Jesus Christ and the Father. Many people are bearing false witness against others to get ahead or to preserve their own tail, but it is not the way! READ USE and SHARE, God bless you this day!
Daily Wisdom Bible Study – According to His Works
7 Wisdom is too high for a fool: he openeth not his mouth in the gate.
According to His Works
Going after wisdom is too tough a task for a fool, this is why he remains a fool.
9 The thought of foolishness is sin: and the scorner is an abomination to men.
Why is the thought of the foolish sin? It is because the thought is where our actions took root. What are you thinking about; righteousness or sin?
10 If thou faint in the day of adversity, thy strength is small.
We have a lot of power from God; all we have to do is ask God for strength and God will give it. Most people do not ask and they don't receive and their strength is small, primarily in the day of adversity. Sometimes we feel as servants of God we should be stronger, especially when we feel weak. This is a time one needs to aggressively petition God for additional strength!
God Renders to Every Man According to His Works
11 If thou forbear to deliver them that are drawn unto death, and those that are ready to be slain;

12 If thou sayest, Behold, we knew it not; doth not he that pondereth the heart consider it? and he that keepeth thy soul, doth not he know it? and shall not he render to every man according to his works?
I was in discussion with a friend of mine regarding a frustrating situation he is in where he is doing all he can do. He is somewhat beating himself up over it; and this scripture comes to mind. I asked him to do all that he can do and leave what is left to the Most High Creator. God knows the heart and ponders and know what he was actually capable of!
In addition to these set of verses, we shall not neglect to remember God gives to every man according to his works! Why does it not say according to his faith and works here? People of understanding know that your works justify your faith!
BibleStudyMinistry.com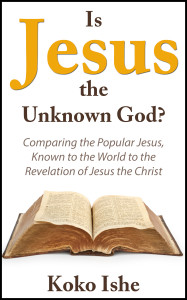 What is going on? We just had a great launching of our new book, Is Jesus the Unknown God? and it was a success, the book was free on Kindle for Download. We are excited and we hope you got a chance to download this book for free, if not no worries, we'll have another free promo in about 3 or 4 months! Don't want to wait that long? Just purchase the book for a love gift amount, as all funding through books go into continued work of the Lord.
It is a phenomenal book that we're sure you'll enjoy (if you desire to serve God in truth and love His Word). Thank you and God bless you!
Also, you can read our book and share it with others, and we CERTAINLY WOULD LOVE COMMENTS AND FEEDBACK ON AMAZON or on our website! God bless!
Share the article on your favorite social media outlet; help the Word flow out into all nations!