I woke up and changed my routine today and checked my email in the morning and this article was the headline from the NY Times digital news. It said:
Good morning. The baby formula shortage highlights four larger problems with the U.S. economy.
And it is "REALLY SCARY!"
All I could think of is Christ's words in Matthew 24:19
19 And woe unto them that are with child, and to them that give suck in those days!
What happened in Jerusalem in 70AD is repeating itself all over again, except this time, it is worldwide. The Romans gathered around Jerusalem, preventing food from in, and preventing people out. Thousands starved to death as people who did not take the prophetic warning of Christ were trapped in the city.
Cannibalism took place, with parents eating their children. Obviously, we are not at that stage and prayerfully don't have to get there, but we are in a global economic crisis.
As you read the Times article, think about it; woe to them with child and that give suck in those days. It's scary, destructively scary for those with little children and more importantly, with little faith these days. Our prayer is for everyone with a child, who gives suck from the breast to repent and be baptized.
Repentance and Baptism
Bring yourself into the bond of the covenant, place yourself in the secret place of the Most-High and allow Him to lead, guide, provide, and protect you. Our Father in Heaven is calling for us with prophetic scriptures coming to pass, weather patterns unheard of, and the times of the Gentiles coming to an abrupt end.
Hear His voice today, do not harden your heart, more destruction is coming to the rebellious, stubborn, and unruly. It is possible to be a willing or unwilling sinner; one can be in wickedness, knowingly or unknowingly. Hear the words of our Father. Listen to our Final Gentile Kingdom series and if you need repentance and baptism steps, contact us right away! Amen.
Elder Ishe / Brthr Nhmyh
BSM
Final Gentile Kingdom Episode 1
The Final Gentile Kingdom Episode 2
Final Gentile Kingdom Episode 3
The Final Gentile Kingdom Episode 4
---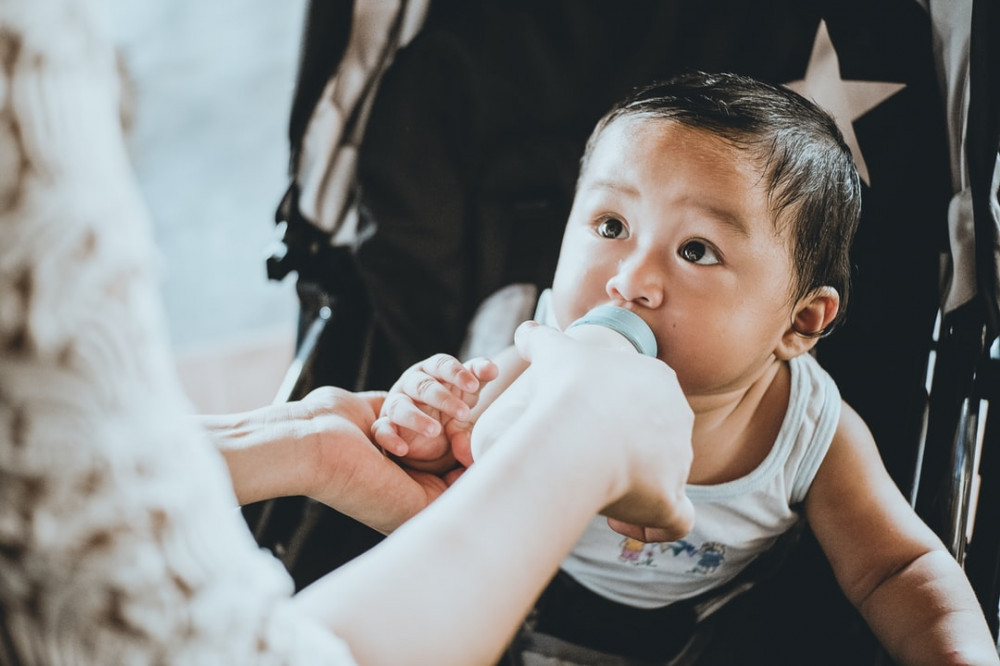 See Full Article Below:
=
'Really scary'
Is my baby getting enough food? It is a typical fear among new parents — and an acute one now, because of a national shortage of baby formula.
A potential bacteria outbreak led to the February shutdown of a Michigan factory that makes Similac formula, and the plant still has not reopened. Its closure has aggravated shortages created by broader pandemic supply-chain problems. Last week, stores stocked about 43 percent less baby formula than usual.
"It gets really scary," Carrie Fleming, who lives near Birmingham, Ala., told The Times. Her 3-month-old daughter, Lennix, can tolerate only one brand of formula, and Fleming could not find it anywhere near her. She finally located four small cans in New York — for $245.
Woe to Them with Child and that Give Suck in Those Days
In Oceanside, Calif., north of San Diego, Darice Browning was recently despondent after failing to find formula for her 10-month-old daughter, Octavia, who cannot eat solid foods. "I was freaking out, crying on the floor and my husband, Lane, came home from work and he's like, 'What's wrong?'" Browning said, "and I'm like, 'Dude, I can't feed our kids, I don't know what to do.'"
For many families, baby formula is a necessity. Some babies cannot drink breast milk — or enough of it to stay healthy — while many lower-income mothers work hourly jobs that do not provide time to breastfeed.
As my colleague Amanda Morris, who has been reporting on the shortage, says: "Most of the parents I spoke with around the country who were feeling the impact of this the hardest were ones that either had limited resources or time or ones whose babies had allergies or disabilities that severely limited their choices."
Baby Formula Shortages
F.D.A. officials say they are trying to alleviate the crisis. Some members of Congress — including Representative Rosa DeLauro, a Connecticut Democrat, and Senator Mitt Romney, a Utah Republican — say the federal government needs to do more.
In addition to being an urgent problem for families, the shortage highlights four larger problems within the U.S. economy. Today's newsletter focuses on them.
1. The 'everything shortage'
The pandemic has created shortages of many goods, including cars, semiconductors, and furniture.
The main reasons: Factories and ports are coping with virus outbreaks and worker shortages at the same time that consumer demand for physical goods has surged, because of government stimulus programs and a shift away from spending on services (like restaurant meals). As a result, much of the global supply chain is overloaded.
The baby formula industry was already coping with these issues before an Abbott Nutrition factory in Sturgis, Mich., shut down. The company shut the factory after four babies — all of whom had drunk formula made there — contracted a rare bacterial infection; two of the babies died. It remains unclear whether the formula caused the infections.
Because sales of baby formula do not fluctuate much in normal times, factories generally lack the ability to accelerate production quickly, Rudi Leuschner, a supply-chain expert at Rutgers University, said. As a result, other factories have not been able to make up for the Sturgis shutdown.
2. Big business
The baby formula business has something in common with many other U.S. industries: It is highly concentrated.
Three companies — Abbott, Gerber, and Reckitt — make nearly all of the formulas that Americans use. Abbott is the largest of the three, with roughly 40 percent of the market.
A baby formula display shelf in San Diego.Ariana Drechsler for The New York Times
Over the past few decades, this kind of corporate concentration has become more common in the U.S. economy, and it tends to be very good for companies. They face less competition, allowing them to keep prices higher and wages lower. Thomas Philippon, an economist at N.Y.U., refers to this trend as "the great reversal." The subtitle of his 2019 book on the subject is "How America Gave Up on Free Markets."
Woe to Them with Child and that Give Suck in Those Days
For workers and consumers, concentration is often problematic. The baby-formula shortage is the latest example. If the market had more producers, a problem at any one of them might not be such a big deal. It's even possible the problem would not happen at all.
"Abbott does not fear consumers will flee," Sarah Miller, executive director of the American Economic Liberties Project, which advocates less concentration, told me. "And it does not fear the government, which has a pathetic track record when it comes to holding powerful corporations and executives accountable." (The Times has profiled Miller and her work.)
3. Big bureaucracy
Even as the industry seems to be under-regulated in some crucial ways, it may be overregulated in other, superficial ways.
This newsletter has covered ways that the F.D.A.'s bureaucratic inflexibility has hampered its Covid policy, and baby formula turns out to be another case study.
Many formulas sold in Europe exceed the F.D.A.'s nutritional standards, but they are banned from being sold here, often because of technicalities, like labeling, Derek Thompson of The Atlantic has noted. Donald Trump exacerbated the situation with a trade policy that made it harder to import formulas from Canada. These policies benefit American formula makers, at the expense of families.
The inflexibility of American regulatory and trade policy, Thompson wrote, "might be the most important part of the story."
4. The gerontocracy
The U.S. has long put a higher priority on taking care of the elderly than taking care of young families.
Americans over 65 receive universal health insurance (Medicare), and most receive a regular government check (Social Security). Many children, by contrast, live in poverty. Relative to other affluent countries, the U.S. spends a notably small share of its budget on children; President Biden's stalled Build Back Better plan aimed to change this, Urban Institute researchers have pointed out.
Alyssa Rosenberg, a Washington Post columnist, argues that the formula shortage is part of this story. "Babies and their well-being have never been much of a priority in the United States," Rosenberg wrote this week. "But an alarming shortage of infant formula — and the lack of a national mobilization to keep babies fed — provides a new measure of how deeply that indifference runs."
Repentance and Baptism are the Only Way Out!!
In her column, Rosenberg suggests the creation of a national stockpile, as exists for some other crucial resources, to prevent future shortages.
Leave a comment and share

 with others who may have had this question looming in their mind. 

We are nearing the end of the half of times

… 

REPENT and be baptized

 in the name of Jesus!
Share the article on your favorite social media outlet; help the Word flow out into all nations!