3/23/2021 – [Two Chinese Provinces Hit By Earthquakes] A series of earthquakes and aftershocks have rattled south-west and north-west China, leaving at least three people dead and 33 injured, according to Chinese media.
Both Yunnan province in south-western China and Qinghai province in the northwest on the Tibetan plateau are prone to earthquakes.
---
The Yunnan quake, which had a magnitude of 6.4, struck first at 9.48 pm on Friday (1348 GMT) near the city of Dali, a popular tourist destination, the China Earthquake Networks Centre (CENC) said. It was followed by at least two aftershocks.
At least three people died and 28 were injured in the Yunnan quake, state media People's Daily reported. Chinese media also said that at least 192 houses collapsed and more than 20,000 people had to be evacuated from the mountainous areas.
Then a few hours later, at 18.04 GMT, more than 1,200km away, a 7.4-magnitude quake jolted China's sparsely populated Qinghai province in the northwest, followed by an aftershock.
---
---
7 For nation shall rise against nation, and kingdom against kingdom: and there shall be famines, and pestilences, and earthquakes, in divers places.
8 All these are the beginning of sorrows.
---
The epicenter was in Maduo county. Chinese media said at least five local residents had minor injuries. One suffering from a minor concussion after falling out of bed and the other fracturing an ankle while seeking shelter.
Local media published videos showing ceiling lamps swinging and vases falling off shelves. They also showed groups of people who had run outdoors after hearing the quake.
The CENC warned people to "stay away from buildings" in a post on Weibo. The quake monitor said the earthquake followed a series of smaller quakes less than an hour before.
Two Chinese Provinces Hit By Earthquakes
China is regularly hit by earthquakes, especially in its mountainous western and south-western regions. A powerful 7.9-magnitude quake in Sichuan province in the southwest in 2008 left 87,000 people dead or missing.
In February 2003, a powerful 6.8-magnitude quake killed 268 in Xinjiang and caused significant damage. In 2010, a 6.9-magnitude quake in Qinghai left 3,000 people dead or missing, and in October 2014, hundreds of people were injured and more than 100,000 displaced after a 6.0-magnitude tremor hit Yunnan, close to China's borders with Myanmar and Laos.
With Agence-France Presse
---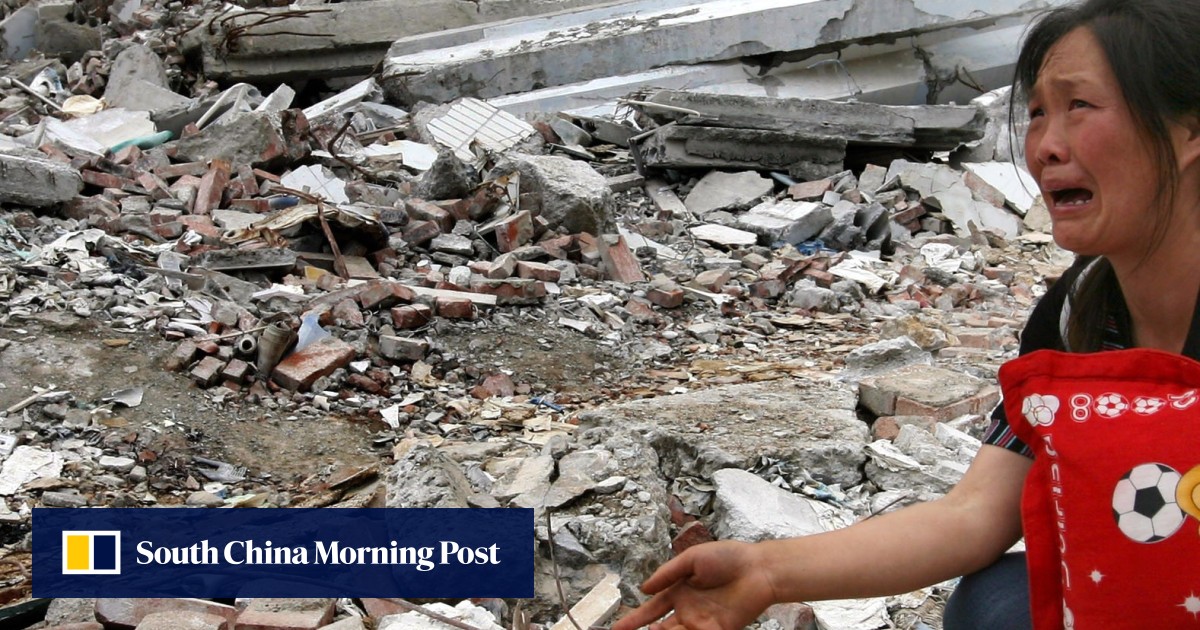 A strong, shallow earthquake shook southwestern China near the border with Myanmar. It killed at least three people and injuring more than two dozen, while a separate, more intense quake early Saturday collapsed a bridge and caused other damage in central China.
The first, 6.4 magnitude earthquake hit Yunnan province late Friday. The second 7.3 magnitude quake occurred hours later in the southern part of Qinghai province. This was about 1,000 kilometers (621 miles) to the south, according to Chinese measurements.
U.S. Geological Survey geophysicist Jonathan Tytell said the two quakes were not related.
Two Chinese Provinces Hit By Earthquakes
The Qinghai earthquake was followed by 453 aftershocks throughout the early morning into midday. This was all according to the official People's Daily newspaper. At least eight people were injured.
While no deaths have been reported so far in Qinghai province, the quakes tore up roads and bridges. One collapsing completely, broken into segments.
The Yunnan province seismological bureau gave the magnitude of Friday night's quake. It is said it struck 8 kilometers (5 miles) below the surface northwest of the city of Dali. Shallow quakes often cause more damage, especially in populated areas.
Two Chinese Provinces (Yunan) Hit By Earthquakes
The earthquake caused strong shaking around Dali, but Chinese news reports showed relatively little damage. Three people died and 28 were injured, Yunan province's publicity department said Saturday.
Relief efforts were underway, with the provincial authorities sending emergency rations and tents to the affected areas. In Qinghai, authorities set up temporary safety shelters due to continuous aftershocks.
Last year, a magnitude 5 earthquake in Yunnan killed four people and injured 23. China's worst earthquake in recent years. It struck the mountainous western portion of Sichuan province to the north of Yunnan in 2008. It devasted and killed nearly 90,000 people.
Share the article on your favorite social media outlet; help the Word flow out into all nations!