Welcome to BibleStudyMinistry.com, we're glad to have you here today, we appreciate you dropping in, we hope in Jesus' name we make it worth your while… and we're sure we will.
Today we're talking about faith as it pertains to thirst… ask yourself…Do you need more faith? I can admit many people do, including me and this is what caused me to select this topic this week, the thirst for more faith. The need for water and the lack of faith caused the children of Israel to take a plight like no other nation in the history of the world.
This week I was reading Exodus chapter 15, in this chapter, the children of Israel were just delivered out of Egypt and were celebrating, they were singing rejoicing in their God for His goodness towards them; He'd taken them out of Egypt in a powerful and miraculous manner.
The Thirst for More Faith
But after only three days in the wilderness the water levels they came out of Egypt probably dwindled down and they began to worry i.e. lose faith, mumble and complain against Moses, their leader. Murmuring against Moses was consequently murmuring against God.
Despite the great works the Lord God had shown Israel in bringing them out of Egypt, they still had the nerve to cry out in a doubtful manner to the SAME GOD who just delivered them out of their bondage. Verse 24 says…
24 And the people murmured against Moses, saying, What shall we drink?

25 And he cried unto the LORD; and the LORD shewed him a tree, which when he had cast into the waters, the waters were made sweet: there he made for them a statute and an ordinance, and there he proved them,

26 And said, If thou wilt diligently hearken to the voice of the LORD thy God, and wilt do that which is right in his sight, and wilt give ear to his commandments, and keep all his statutes, I will put none of these diseases upon thee, which I have brought upon the Egyptians: for I am the LORD that healeth thee.
In the Wilderness…
This is where the children of Israel and anybody who emulates their mannerism will go downhill and it all began with their need for water which is a rather simple need for the great God of Heaven to provide for them taken all the great things He'd just done for them.
Their need for water was really their need for faith (and their plight began with their need for more faith). The people mumbled against Moses asking him after three days in the wilderness for some water to drink.
The Lord answered their cry and once again proved to them that He is the Almighty God, the God of Abraham, Isaac, and Jacob their fathers, but this seems to not be enough for them. In reading this, I ask are you doing the same thing in your life, crying to God doubting His greatness and His ability to provide for you and yours?
A thirst for more faith…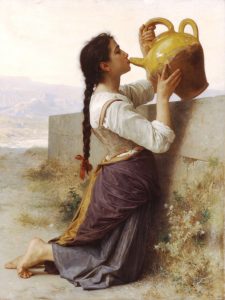 The need for water was the physical substance the children of Israel wanted but they cried to the Lord for water when they should have been crying to the Lord for more faith. If they had more faith or belief in the Lord God Jehovah, they would not have taken the isolated troubles they took throughout their generations.
If you are thirsty, cry to the Lord to increase your faith in Him, in your career, business, spouse, relationships, and children, whatever it may be, and pray for increased faith. Jesus prayed for Peter for his faith to be increased…
In Luke 22 v31-33…
31And the Lord said, Simon, Simon, behold, Satan hath desired to have you, that he may sift you as wheat:
32But I have prayed for thee, that thy faith fail not: and when thou art converted, strengthen thy brethren.
Once your faith is increased you will be doubtless that the Lord can and will. He can and will supply all your needs in abundance, and the desires of your heart as well.
Then you can help your fellow brother and sister by praying for them. And encouraging them to have more faith in God. Not just with the Word of God, but that God can do ALL things for you. As long as you believe He can.
As our friend Joel Osteen would say… do you receive it today?
Pray for peace in Jerusalem. Pray for the fatherless and widowed, the sick and bereaved, and lastly pray for yourself. And I hope this posting finds you well. That it increases you in wisdom, knowledge, and understanding, and makes or made you better today in Jesus' name… Amen. God bless you!
Selah
Thank you for joining us today. It's always a pleasure to have you. BibleStudyMinistry.com (BSM), believes the Bible is one assimilated account leading and pointing to Jesus the Messiah. Also to His Kingdom on the Earth, and His Royal Family.

We appreciate and are grateful for all your love and support in all ways possible… even something as simple as leaving a cool or encouraging comment. Blessings to you.
Not on our exclusive newsletter? Sign up for PDFs, live Q&As, and more!
=
Leave a comment below of your thoughts…
Or do it here on Google – Facebook or Twitter. We're also on Instagram…
Share the article on your favorite social media outlet; help the Word flow out into all nations!