1 I am the man who has seen the afflictions that come from the rod of God's wrath. 2 He has brought me into deepest darkness, shutting out all light. 3 He has turned against me. Day and night his hand is heavy on me. 4 He has made me old and has broken my bones.
5 He has built forts against me and surrounded me with anguish and distress. 6 He buried me in dark places, like those long dead. 7 He has walled me in; I cannot escape; he has fastened me with heavy chains. 8 And though I cry and shout, he will not hear my prayers! 9 He has shut me into a place of high, smooth walls; he has filled my path with detours.
10 He lurks like a bear, like a lion, waiting to attack me. 11 He has dragged me into the underbrush and torn me with his claws, leaving me bleeding and desolate.
12 He has bent his bow and aimed it squarely at me, 13 and sent his arrows deep within my heart.
14 My own people laugh at me; all day long they sing their ribald songs.
The Living Bible Lamentations Chapter Three
15 He has filled me with bitterness and given me a cup of deepest sorrows to drink. 16 He has made me eat gravel and broken my teeth; he has rolled me in ashes and dirt. 17 O Lord, all peace and all prosperity have long since gone, for you have taken them away. I have forgotten what enjoyment is. 18 All hope is gone; my strength has turned to water, for the Lord has left me. 19 Oh, remember the bitterness and suffering you have dealt to me! 20 For I can never forget these awful years; always my soul will live in utter shame.
21 Yet there is one ray of hope: 22 his compassion never ends. It is only the Lord's mercies that have kept us from complete destruction. 23 Great is his faithfulness; his loving-kindness begins afresh each day. 24 My soul claims the Lord as my inheritance; therefore I will hope in him. 25 The Lord is wonderfully good to those who wait for him, to those who seek for him. 26 It is good both to hope and wait quietly for the salvation of the Lord.
27 It is good for a young man to be under discipline, 28 for it causes him to sit apart in silence beneath the Lord's demands, 29 to lie face downward in the dust; then at last there is hope for him. 30 Let him turn the other cheek to those who strike him and accept their awful insults, 31 for the Lord will not abandon him forever. 32 Although God gives him grief, yet he will show compassion too, according to the greatness of his loving-kindness. 33 For he does not enjoy afflicting men and causing sorrow.
The Lord Helps… and Harms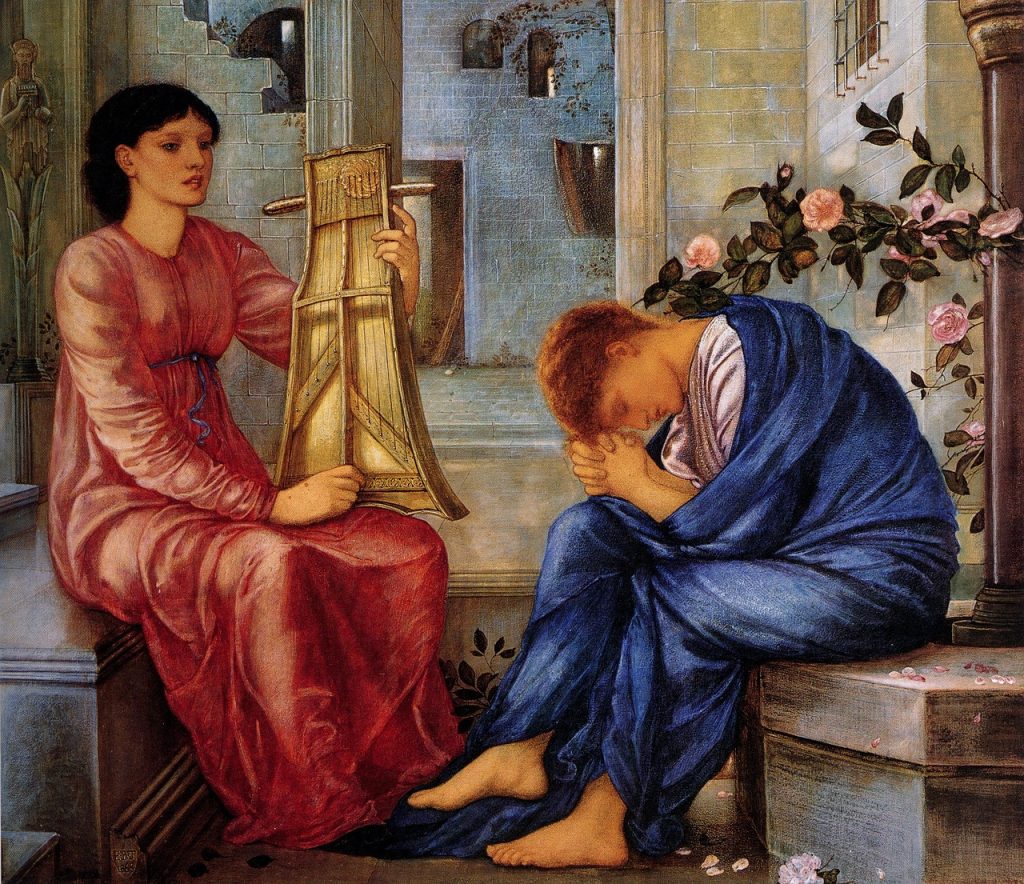 34-36 But you have trampled and crushed beneath your feet the lowly of the world, and deprived men of their God-given rights, and refused them justice. No wonder the Lord has had to deal with you! 37 For who can act against you without the Lord's permission? 38 It is the Lord who helps one and harms another.
39 Why then should we, mere humans as we are, murmur and complain when punished for our sins? 40 Let us examine ourselves instead, and let us repent and turn again to the Lord. 41 Let us lift our hearts and hands to him in heaven, 42 for we have sinned; we have rebelled against the Lord, and he has not forgotten it.
43 You have engulfed us by your anger, Lord, and slain us without mercy. 44 You have veiled yourself as with a cloud so that our prayers do not reach through. 45 You have made us as refuse and garbage among the nations. 46 All our enemies have spoken out against us. 47 We are filled with fear, for we are trapped and desolate, destroyed.
 Lamentations Chapter Three
48-49 My eyes flow day and night with never-ending streams of tears because of the destruction of my people. 50 Oh, that the Lord might look down from heaven and respond to my cry! 51 My heart is breaking over what is happening to the young girls of Jerusalem.
52 My enemies, whom I have never harmed, chased me as though I were a bird. 53 They threw me in a well and capped it with a rock. 54 The water flowed above my head. I thought, This is the end! 55 But I called upon your name, O Lord, from deep within the well, 56 and you heard me! You listened to my pleading; you heard my weeping! 57 Yes, you came at my despairing cry and told me not to fear.
58 O Lord, you are my lawyer! Plead my case! For you have redeemed my life. 59 You have seen the wrong they did to me; be my Judge, to prove me right. 60 You have seen the plots my foes have laid against me. 61 You have heard the vile names they have called me, 62 and all they say about me and their whispered plans. 63 See how they laugh and sing with glee, preparing my doom.
64 O Lord, repay them well for all the evil they have done. 65 Harden their hearts and curse them, Lord. 66 Go after them in fierce pursuit and wipe them off the earth, beneath the heavens of the Lord.
Selah
Thank you for joining us today. It's always a pleasure to have you. BibleStudyMinistry.com (BSM), believes the Bible is one assimilated account leading and pointing to Jesus the Messiah. Also to His Kingdom on the Earth, and His Royal Family.

We appreciate and are grateful for all your love and support in all ways possible… even something as simple as leaving a cool or encouraging comment. Blessings to you.
Not on our exclusive newsletter? Sign up for PDFs, live Q&As, and more!
Leave a comment below of your thoughts…
Or do it here on Google – Facebook or Twitter. We're also on Instagram…
Share the article on your favorite social media outlet; help the Word flow out into all nations!