As Jesus was being detained by the chief priests, He asked their multitudes, "Have you come out against a thief that you have swords and bats in hand to take Me.?" "Didn't I sit with you daily, teaching in the temple, and you did not lay hold on Me then?"
Jesus said, reminding them all. Nevertheless, all of this was done so the scriptures of the prophet would be fulfilled. It was at this time that all of His disciples abandoned Him and fled for their lives.
The men who had Jesus took Him to Caiaphas, the high priest, where the scribes and elders had assembled. Peter, who'd hidden, followed them from afar off all the way until they were at the high priest's palace.
Matthew 26 – Are You the Messiah?
Peter even went into the palace and sat among the high priest's servants to see the end. Peter had his popcorn and a great seat to this movie that was unwrapping before his eyes.
What Peter saw was terrible. The chief priests and elders and all the council sought false witnesses to testify against Jesus so they could put Him to death. However, they were not able to find anyone with any false allegations that were substantial.
Many spoke, but no one had anything they could openly condemn Jesus with. Finally, when things were near a close, two false witnesses arose. They testified that Jesus said He was able to destroy the temple of God and rebuild it in three days.
Caiaphus Demands a Reply from Jesus!!
The high priest stood up, acting enraged and said to Jesus, "Do you have anything to say about what these witnesses have to say against you?"
Jesus held His peace and did not respond to a word. His silence infuriated the high priest, who then yelled, "I ADJURE YOU BY THE LIVING GOD THAT YOU TELL US WHETHER OR NOT YOU ARE THE HOLY MESSIAH, the Son of God!"
Jesus replied to him calmly by saying, "You have said that; however, I say to you, after all of this, you will see the Son of man sitting on the right hand of Power, and coming in the clouds of heaven."
Peter Buckles Under Pressure
The high priest then tore his clothing and yelled that Jesus had spoken blasphemy. "We do not need any further witnesses, we have all heard His blasphemous statements; what does everyone think," Caiaphus exclaimed?
Everyone responded by saying that Jesus was guilty of death. They then began to act vile; they spit in His face and hit Him repeatedly, and some slapped Him with the palm of their hands.
They mocked the LORD and asked Him to prophesy to them since He was the Messiah and tell them which one of them slapped Him. Peter watched this in horror and began to be scared.
This was when a young woman came to him and said, "You were also with Jesus of Galilee." Peter quickly denied any association with Jesus, very clearly telling the young maid he didn't know what she was talking about.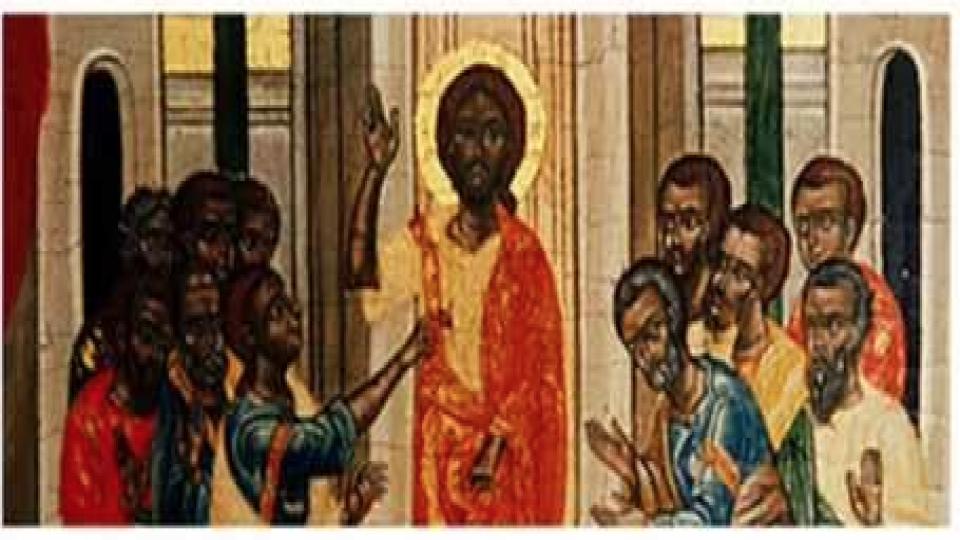 That was one.
The kitchen was getting hot, and they were conducting themselves in a physically violent way with Jesus. Since they were threatening death by execution, Peter skipped out of the Palace (it would have been something if Jesus snitched on him).
He was on the porch when another young lady saw him, gazed at his face for a moment and approached him. She also accused him before others who were round about Peter that he was also with Jesus from Nazareth.
He denied her statements with a vow, pausing and speaking very clearly and matter of factly, "I promise, I do not know the man!"
That was two.
He left that crowd and stood among a different set of people. After a while, some came up to him and said to Peter, "We're pretty sure you are with Jesus and His fellows; because we can hear it in your tongue; your accent has given you up."
Peter began to use vulgar language and swear to refute their claims with emphasis. "I have done told y'all I DO NOT KNOW THE MAN; Y'ALL HEAR ME; leave me alone with this nonsense!" As soon as he said the last words of that sentence,  immediately the cock crew.
That was three.
Peter recalled the word of the LORD. He understood what Jesus said to him; before the male bird cries out that night, he would have denied the LORD three times. He paused in disgust of himself and disappointment, excused himself from everyone and went somewhere alone.
There, he cried bitterly, like that of a child losing his only toy; lamenting his behavior to his Lord, Jesus.
Selah (based on Matthew chapter 26)
Thank you for joining us today. It's always a pleasure to have you. BibleStudyMinistry.com (BSM), believes the Bible is one assimilated account leading and pointing to Jesus the Messiah. Also to His Kingdom on the Earth, and His Royal Family.

We appreciate and are grateful for all your love and support in all ways possible… even something as simple as leaving a cool or encouraging comment. Blessings to you.
Not on our exclusive newsletter? Sign up for PDFs, live Q&As, and more!
Or do it here on Google – Facebook or Twitter. We're also on Instagram…
What do you think about this chapter? How can you utilize this article to improve your life, your walk or search for salvation? How is this chapter relevant towards the Kingdom of God?
Leave your comments below and edify others…!
Share the article on your favorite social media outlet; help the Word flow out into all nations!