Chapter Summaries: Genesis Chapter 25 Summary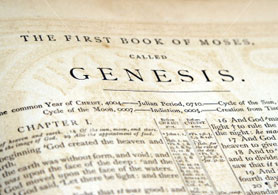 Here in chapter 25 of Genesis, after the death of Sarah, Abraham remarries a woman named Keturah.
In this, he had several more children. With the additional sons, Abraham still passes the blessings and covenant to his son Isaac.
Abraham died at the age of 175, full of years and was buried next to Sarah, his wife. The generations of Ishmael and Isaac are given, along with the story of the birth of Jacob and Esau. Isaac loved Esau, but Rebekah loved Jacob.
Jacob hustled his brother Esau into selling him his birthright; thus Esau despised his birthright.
Please it to the Father to add blessings to the reading and doing of His Holy Word through His Son Jesus Christ. So Be It!
We welcome you to join Our Newsletter for 9 Special Studies and a New Study Every Week Sent to Your Email Address in text, audio, or video form. Also you'll be first to know when we have live Bible studies online or prayer calls!
(have a twitter account? Follow us)
Share the article on your favorite social media outlet; help the Word flow out into all nations!