Genesis Chapter 18 Summary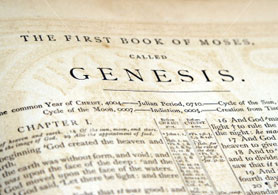 Here in Genesis 18, God appears to Abraham in the plains of Mamre where Abraham saw three men standing with the Lord.
Once Abraham recognized who the men were, he ran to pay respect and bow towards the Lord God, who was among the men.
Abraham prays for the Lord to sup or dine with the him and his family.
During the dinner, God reveals that Sarah will have a child this time to following year. Sarah, listening in, heard God's revelation for her and she laughs within herself at God proclamation.
God called her out on laughing to herself, and she denied laughing.  After dining, the Lord asked the men with him if he should share with Abraham what He plans to do?
God decided against hiding the news because He knew Abraham would obey and teach his family the ways of God.
Further, God proceeded to tell Abraham what He planed to do to the citizens of Sodom and Gomorrah, if there is not at least 10 righteous people in all that coast. The men who were with the Lord go towards Sodom and the Lord goes His way!
Please it to the Father to add blessings to the reading and doing of His Holy Word through His Son Jesus Christ. So Be It!
We welcome you to join Our Newsletter for 9 Special Studies and a New Study Every Week Sent to Your Email Address in text, audio, or video form. Also you'll be first to know when we have live Bible studies online or prayer calls!
Read Genesis Chapter 18 Here Right Now!
(have a twitter account? Follow us)
Share the article on your favorite social media outlet; help the Word flow out into all nations!