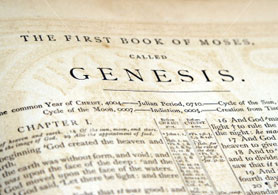 In chapter twelve, Abram is commanded by God to get out of his home country and go to where God will show him.
It is thought and presumed that God commanded him to leave because God wanted him to leave paganism and polytheistic worship and journey to the land of Canaan where God will be his guide.
Abram is promised, by God, to have land and for his children, that did not exist at the time of God speaking to him, to become a great nation.
Abram leaves to Canaan with his nephew Lot, but while there he goes into Egypt because of a famine in Canaan, and God begins to build his wealth and prestige in the area.
While in Egypt, Abram ask his wife Sarai to tell people she is his sister. The Egyptian princes wanted Sarai because she was very fair to look upon.
They gave Abram sheep, oxen, asses, cattle, men and maid servants for Sarai. However, God laid in on Pharaoh and his house and it was revealed that Sarai was Abram's wife.
The Pharaoh sent Abram out of the country for that incident.
Read Genesis Chapter 12 Here Now!
(have a twitter account? Follow us)
Share the article on your favorite social media outlet; help the Word flow out into all nations!