Drew Carey's Thoughts on Christmas
While Drew Carey is being truthfully humorous, the things he said definitely merits a lot of weight as it pertains to many of "mainstream" Christianity's Holidays and practices. No other religion is commercialized as bad as Christianity, and in the effort to commercialize itself, "mainstream" Christianity adds plenty of false doctrine, which so many often take as truth.
Think about this as you go into the holiday season and at the very least know about the customs.
Blessings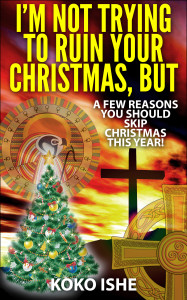 To learn more about Christmas True History and What the Bible says about Christmas, be sure to get your free report and chapter from new book, I'm Not Trying to Ruin Your Christmas, But… today by visiting the link below today!
Share the article on your favorite social media outlet; help the Word flow out into all nations!