Greetings from Bible Study Ministry, welcome to another day that the Lord has made, let us rejoice and be glad in it. Below are some verses from Proverbs, we believe are timely thought worthy proverbs, and will be assistance to our walk with Jesus Christ and the Father. Although we are told to get understanding with all things, wisdom is the principle thing. It is wisdom that will prolong our days! God bless you this day!
Daily Wisdom Bible Study – the Power of the Tongue
19 A brother offended is harder to be won than a strong city: and their contentions are like the bars of a castle.
If you do offend a brother or sister, try to amend it right away. Do not prolong the wound, once offended, a brother or sister is very hard to win back. This is especially so if they dwell in the contention.
Death and Life are in the Power of the Tongue
21 Death and life are in the power of the tongue: and they that love it shall eat the fruit thereof.
The tongue utters the thoughts of the mind, therefore, be mindful of your thoughts, and certainly do not allow bad thoughts to come to your mouth for verbal reinforcement. If you speak life, you will live, if you speak death, it will come looking for what you want! The same is true for whatever you are speaking, poverty, wealth, health, wisdom, all the same, your tongue holds the power!
22 Whoso findeth a wife findeth a good thing, and obtaineth favour of the Lord.
It is a good thing to find a wife, men, be sure she is from the Lord and not something you found outside while shoppinig.
23 The poor useth intreaties; but the rich answereth roughly.
The poor has to be nice in their wants, the rich can answer anyway they want. The poor has to follow code rules, the rich does not have to… sometimes!
24 A man that hath friends must shew himself friendly: and there is a friend that sticketh closer than a brother.
If you want friends, you must show the world a friendly attitude. In friendship, you will often times find a friend who is closer to you than your own blood siblings. It's an interesting dynamic.
That's our daily wisdom Bible study for today, God bless you for joining us, and God bless and establish you for applying them into your life daily. Don't forget to look into other studies we have on our website, join our newsletter, if you have YouTube, subscribe to our YouTube Channel, follow us on Twitter, and like our Facebook page. We thank you and God bless you in Jesus name!
BibleStudyMinistry.com
What is going on? Bible prophecy is taking shape everyday. If you're not sure what's going on, we urge you to join our newsletter so that you can receive emails from us, not only for Bible studies, but for prophetic news that are so vital these days! Sign up Today … put your name and email in the form to the right side of this post (scroll up and voila)!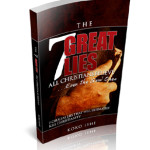 Also, you can read our book and share it with others! The 7 Great Lies All Christians Believe … Even the Good Ones is an exceptional educational, spiritual read that will help you with future Bible Study as you pay attention to detail! Get your copy today!
Share the article on your favorite social media outlet; help the Word flow out into all nations!