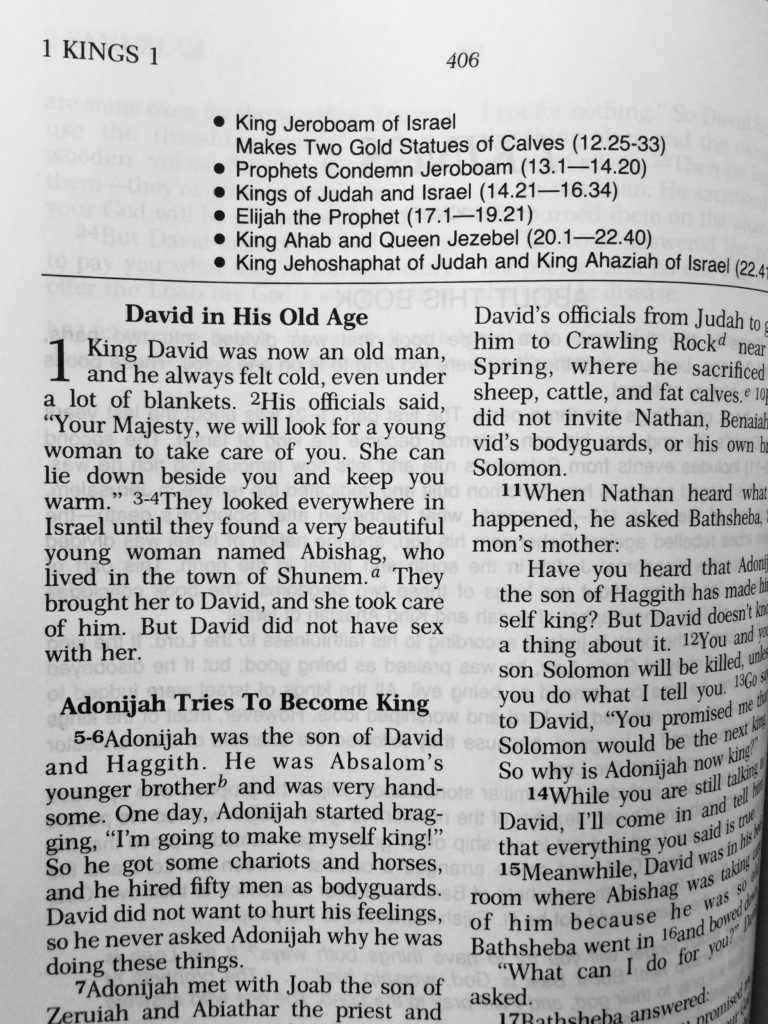 1 Kings Chapter 1 Summary
1 Kings chapter 1 summary begins with the latter years of king David's life and how his administration did their best to keep the king healthy and engaged.
Welcome to BibleStudyMinistry.com's chapter summary series, if you need a quick summary of a chapter in the Bible, join us for the journey in our chapter summary series and learn a lot in the process. Now back to 1st Kings chapter 1 summary.
They attempted to do this by bringing the king one of the most beautiful young virgins in the kingdom, to keep him company (if  you know what they meant). David never slept with her, but he did keep the young beauty around for conversation and other helping tasks.
There was conflict in this chapter. The conflict of the chapter begins when Adonijah, David's son, declares himself the next king of Israel. It was a bad move, as self declaration of a Godly appointed kingdom, rarely works with the God of Israel.
However, David never stopped his son Adonijah's declaration.
Adonijah is the younger brother from the same mother as Absalom, and of course Absalom had since been killed. Adonijah had some support in his crown proclamation, but not from Nathan the prophet, and neither from David's mighty men.
Therefore, in the eyes of many, and those of authority, his claim wasn't legit. Nathan the prophet seeing how Adonijah was attempting to take over the kingdom, went and had talks with Bathsheba, the mother of Solomon, and prompted her to talk to the king about his promise to Solomon, her son.
Nathan piggybacked her and confirm her words. They did exactly as they planned, and convinced the king, as David announced that Solomon would be king after him. Zadok the priest and Nathan the prophet were to anoint Solomon king over Israel and blow the trumpet.
They did that and blew the trumpet; they blew so loud and were rejoicing that Adonijah's party heard it and asked what was going on? It was explained to them that David had just appointed Solomon king!
Adonijah's guest and Adonijah became afraid; the guest went to their house, Adonijah ran to the altar to protect himself. Solomon swear he would not be killed, if he shows himself a worthy man!
This is the summary of first Kings chapter one.
BSM
Elder Ishe for BibleStudyMinistry.com, your online, Bible Supplement source!
===
Share the article on your favorite social media outlet; help the Word flow out into all nations!