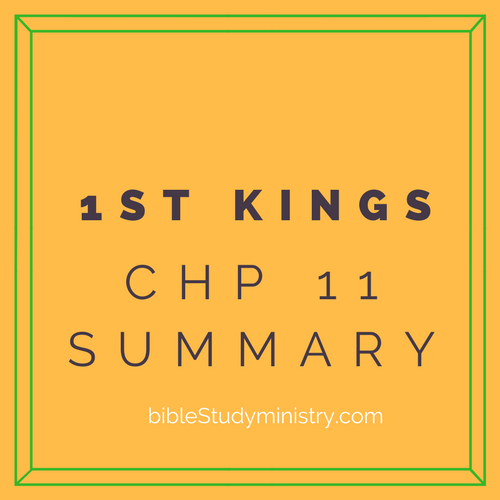 1st Kings Chapter 11 Summary
Chapter eleven begins with the fall of Solomon and consequently Israel because of Solomon's decisions and lust for women. The fall of Solomon began with his love for many foreign women.
It started with the daughter of Pharaoh. It then moved onto the women of Moab, Ammon, and Edom, even the Zidonians. Finally, the Hittites winked and flashed their eyelashes at the aging king.
Most of these nations were forbidden by God for the children of Israel to marry. They had the luring ability to take their mind from the God of Israel. Solomon loved these women, and in his older age, he wasn't as strong mentally and spiritually in doing the right thing.
He was recorded to have 700 wives and 300 concubines, and his heart was more on them and their gods than it was on the God of Israel. Solomon built high places for his wives gods, and God was angry because God appeared to Solomon twice.
In addition, the Lord God warned Solomon about other gods and the women of other nations. Fed up, God decided to rip the kingdom from Solomon and give a large part of the now divided kingdom to his servant.
Solomon Now Has Adversaries: 1st Kings Chapter 11 Summary
The Lord was merciful enough to not do this during Solomon's days, but in the days of his son, this would be appropriated. God then releases the lions or hounds onto Solomon and Israel. All of the sudden, Solomon has adversaries.
Solomon had Hadad the Edomite, Rezon from Zobah of Syria, and even Jeroboam an Ephrathite in his own nation, all gave Solomon fits and troubles.
The chapter concludes with the rise of Jeroboam, who was a mighty man of valor and industrious, so Solomon made him ruler of the house of Joseph (Ephraim).
A prophet named Ahijah met with Jeroboam and prophesied to him that he would be king over ten tribes after Solomon is resting with his father's. Jeroboam then fled to Egypt under Shishak, king of Egypt, and stayed there until Solomon died.
This is the summary of 1st Kings chapter 11.
Selah
Thank you for joining us today. It's always a pleasure to have you.
BibleStudyMinistry.com (BSM), believes the Bible is one assimilated account leading and pointing to Jesus the Messiah. Also to His Kingdom on the Earth, and His Royal Family.
BSM also believes the Bible has a lot of profound and practical wisdom everyone can use in the journey of life; and towards the Kingdom of the Lord.
You'll find we blog and vlog on different study topics, chapter studies, current events, biblical interludes, and all things pertaining to scripture. We do all of this so we can share this story the best we can with you.
We appreciate and are grateful for all your love and support in all ways possible… even something as simple as leaving a cool or encouraging comment. Blessings to you.
Not on our exclusive newsletter? Sign up for PDFs, live Q&As, and more!
Leave a comment below of your thoughts…
Do it here or on Google – Facebook or Twitter. We're also on Instagram…
Share the article on your favorite social media outlet; help the Word flow out into all nations!