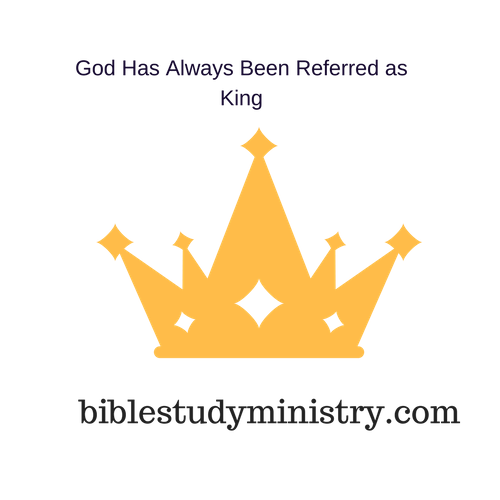 God Has Always Been Referred to as a King
Blessings to you for being here. Today, once again, we are writing to you on the topic, "a Kingdom of Priests," and although that is what God referred to us as; God has always been referred to as King.
This gets lost in translation, lost in pre-celebration, lost in worldly pre-suasion, and lost since the creation. In a careful follow of biblical reading codes, typically known as line-upon-line, precept-upon-precept, here-a-little, there-a-little, a hidden yet bold story is told.
Whenever King David prayed or any other servant of God was in communion with the Lord, they not only referred to Jehovah their God as God and Lord, but also as their King.
As we've begun to re-establish with emphasis on this website and online supplemental ministry, Kings aren't kings because they want to call themselves kings. Kings are kings because they rule over a certain domain or territory.
In the prayer in Psalm 5:2, the writer implores to God to give ear or listen to his words and consider his thoughts or his meditation. The writer refers to God as his King and his God.
God and man are simply two different types of beings, however man is striving to become God in (bodily) form and spiritual form, and even in ideology. It is like the relationship between man and dog.
Two different beings, two complete different levels of understanding, knowledge, and intuitional instincts. The dog is not looking to become man, nor was the dog designed to become a man. Man is looking to become God, in the fullest sense of the transition, and mankind's God is also a King.
Have You Forgotten the Lord and King?
See verse 16 of the same book of Psalm, but chapter 10:
16 The Lord is King for ever and ever: the heathen are perished out of his land.
Not only is God going to be God forever, God will be King for ever and ever. The King of glory will get rid of the nation's out of His land (the earth) that do not do as the King requires (Psalm 10:16). At this point people have simply forgotten about the Lord and King.
The ways of the world and propaganda, media, TV, gadgets, and other things, distract people from thinking and knowing the reason they are actually here on the earth.
Once we remember our God, and re-realize that our God has always been referred to as a King; we may just rewake to some of His divine purposes. His Divine purposes for us today and into the near future.
Selah
Thank you for joining us today. It's always a pleasure to have you. BibleStudyMinistry.com (BSM), believes the Bible is one assimilated account leading and pointing to Jesus the Messiah. Also to His Kingdom on the Earth, and His Royal Family.
BSM also believes the Bible has a lot of profound and practical wisdom everyone can use in the journey of life; and towards the Kingdom of the Lord.
You'll find we blog and vlog on different study topics, chapter studies, current events, biblical interludes, and all things pertaining to scripture. We do all of this so we can share this story the best we can with you.
We appreciate and are grateful for all your love and support in all ways possible… even something as simple as leaving a cool or encouraging comment. Blessings to you.
Not on our exclusive newsletter? Sign up for PDFs, live Q&As, and more!
Leave a comment below of your thoughts…
Do it here or on Google – Facebook or Twitter. We're also on Instagram…
Share the article on your favorite social media outlet; help the Word flow out into all nations!