Welcome, so you want to know what does the Bible say about Islam?
Islam is a religion in the earth; it is one of the top three religions in all the earth and is growing rapidly, and much of it (as seen in the news) is by force (as on the African continent).
Does the Bible speak about the religion known to us as Islam?  Well, not specifically but the Bible is about all people and thus it does talk about the people that perpetuate religions.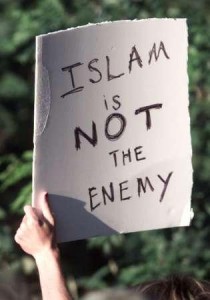 Islam is a religion founded by the prophet Mohammed, who was from the lineage of Ishmael son of Abraham.
Islamist, or Muslims are not mentioned in the Bible, they are not even warned against by Jesus as He warned against another form of Christianity that will (or has) sprang up in recent times.
The sons of Ishmael or modern day Arabs practice Islam, as supposed, from their father Abraham, who is also the father to Isaac according to the scriptures.
Isaac is the son in whom the covenant between God and Abraham went to, and further it went to Jacob the second son to Isaac (Genesis 26 & 27).
The Arabs are not mentioned in the Bible, but it does not exclude them from the plan of salvation through Jesus Christ. If a Muslim will accept Jesus the Christ into his life, as King and High Priest, they will receive eternal life as would anyone else.
In the Quran, many of the Biblical figures are mentioned and are noted.  Moses and Jesus are well known prophets in the Quran, but Jesus is not recognized as the son of God or to have been resurrected on the third day to ascend into heaven to sit on the right hand of the Father.
Many Islamist utilize the Bible for reference, but not as Holy doctrine. What does the Bible say about Islam? Nothing directly, but much indirectly, as it does with so many topics.
Thanks for being here today, At BibleStudyMinistry.com (BSM), we believe the Bible is one integrated story that leads to Jesus Christ, His Kingdom on the Earth, with His Royal Family, and that the Bible has profound practical wisdom we all can use as we journey towards the Kingdom together.
This is why we post blogs, study topics, chapter studies, and all things pertaining to scripture, so we can share this story best we can with you. We appreciate and are grateful for all your love and support in any way possible, even something as simple as sharing a post. Blessings to you.
BSM
Elder Ishe for BibleStudyMinistry.com, your online, Bible Supplement source!
Also, please join our newsletter, where we share studies and lessons in the Bible, 90% of Christians and people aren't aware of in subjects concerning Jesus Christ, history, prophecy, principle, and true gospel.
You'll get these studies weekly. Sign up right today!
We do these cool study topics and chapter studies that you probably would like. Check them out here!
Share the article on your favorite social media outlet; help the Word flow out into all nations!