---
At least eight people were missing on Saturday as what has become the largest single wildfire in California's recorded history continued to scorch through northern communities, forest, and tinder-dry scrub in the Sierra Nevada mountains.
People in the scenic region were already facing a weekend of fear as the huge Dixie fire threatened to reduce thousands of homes to ashes.
---
The blaze, which has been raging for three weeks and incinerated much of the gold rush-era town of Greenville this week, was threatening more than 14,000 buildings in the northern Sierra Nevada. It had engulfed an area larger than New York City.
Greenville, CA
"We have received reports of eight unaccounted-for individuals," the Pulmas county sheriff's office, about 160 miles north of Sacramento, said on Saturday afternoon, asking for the public's help in finding them.
Five of the missing belong to Greenville.
Dixie, named for the road where it started, spanned an area of 698 sq miles as of early Saturday evening, the largest current wildfire in the nation covering the largest area in recorded state history, and was less than a quarter contained.
Fire Hard to Be Contained
In the first reported injuries of the Dixie blaze, four firefighters were taken to the hospital on Friday after being struck by a fallen branch, a California department of forestry and fire protection firefighter and spokesman, Edwin Zuniga, said.
---
For those who don't know, it takes over an hour to drive all the way across Houston going 75 mph. Just an idea for the scale of this fire. People are saying, We have all this technology to destroy the world if we wanted to. But we can't contain a fire? That's really sad????! People losing hope; "third-largest in California history, until next week. Be safe out there!"

---
Is this of Biblical proportions? Isaiah 9:18-19 For wickedness burns like a fire that consumes the thorns and briers and kindles the forest thickets which roll upward in billows of smoke. By the wrath of the LORD of Hosts, the land is scorched, and the people are fuel for the fire. No man even spares his brother.
Biblical Proportions
And Malachi chapter 4:1 says, "For behold, the day is coming, burning like a furnace, when all the arrogant and every evildoer will be stubble; the day is coming when I will set them ablaze," says the LORD of Hosts. "Not a root or branch will be left to them."
In this, we must fear the name of the Sovereign LORD ALMIGHTY and He will heal us and keep us.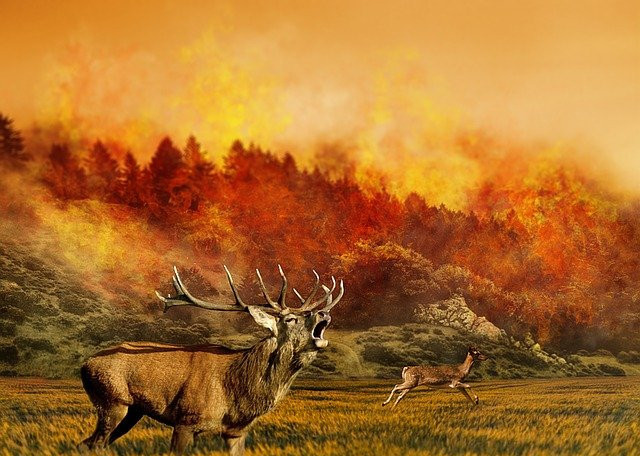 Read more articles of historical, prophetical, and ordinances of the Holy Order of the Son of Elohim.
Share the article on your favorite social media outlet; help the Word flow out into all nations!