Welcome back to Bible Study Ministry, AND yes we are back, we took some time off to prepare a for a product (book) we believe is necessary in season and out and we hope you enjoy it. You can find it in our product section of the website on the tab above. Here today we are continuing our daily wisdom postings, and we are reading over a few good verses to consume and digest as our spiritual foods for today! Wisdom is the principal thing, and with all your getting get understanding! God bless you this day!
Daily Wisdom Bible Study –  Riches Profit Not in the Day of Wrath
A false balance is abomination to the Lord: but a just weight is his delight.
Be equal on your judgements and treatment of other people. Often times, we all become lenieth with certain people and merciless with others. This is a false balance; an abomination to the God of Israel. God delights in balance weight in justice.
2 When pride cometh, then cometh shame: but with the lowly is wisdom.
Wisdom is upon them who have humility. Shame comes to those who are prideful. This is a common theme in the Bible and in life; humble yourself!
3 The integrity of the upright shall guide them: but the perverseness of transgressors shall destroy them.
If you keep your integrity; you will be guided by the God of Abraham, but if you are continuously unruly, stubborn, resistant towards truth and justice; then your transgressions will destroy you.
Riches Profit Not in the Day of Wrath
4 Riches profit not in the day of wrath: but righteousness delivereth from death.
It does not matter if you have all the money in the world; if a earthquake hits your geographical area, you will perish like the poor man. The only thing that can and will deliver in the day of wrath is righteousness. This is because, even in affliction the God of Jacob can send His Holy Angels to deliver you!
5 The righteousness of the perfect shall direct his way: but the wicked shall fall by his own wickedness.
6 The righteousness of the upright shall deliver them: but transgressors shall be taken in their own naughtiness.
The righteousness of the perfect and the upright will direct them and deliver them. Their angel from Jesus will lead and guide them. Nevertheless, the wicked and the sinner will fall and be taken away in their own wickedness and sin. These are written here for our admonition and adherence so we can learn to deliver ourselves from folly, and hope in the salvation of Jesus Christ.
Riches Profit Not in the Day of Wrath
This is our daily devotional for today; may God bless you and keep you in Jesus name!
BibleStudyMinistry.com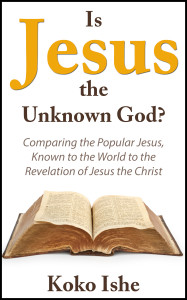 What has been going on? We just had a great launching of our new book, Is Jesus the Unknown God? and it was a success, the book is downloadable on Kindle for Download. We are excited and we hope you got a chance to download this book for the edification of your soul.

It is a GREAT book that we're sure you'll enjoy (if you desire to serve God in truth and love His Word). Thank you and God bless you!
Also, you can read our book and share it with others, and we CERTAINLY WOULD LOVE COMMENTS AND FEEDBACK ON AMAZON or on our website! God bless!
Share if this has helped you and you believe it will help someone else…Because…
It's not against the rules to share good info!
Please Share It …
Share the article on your favorite social media outlet; help the Word flow out into all nations!