If the picture has you hung up, it has that affect for both guys and gals (guys much worse though). Imagine how viewing the lady in the photo in person would be, and if you were a ruler or in position of power?
Chapter eleven of 2nd Samuel is a chapter king David of Israel may wish was never recorded in the history of the children of Israel and in the chronicles of the kings of Judah.
2nd Samuel Chapter 11 Summary
Nevertheless it was, and it also works to edify brothers who fall into this great temptation, most every man is tempted with at one point or another.
Welcome to BibleStudyMinistry.com's chapter summary series, if you need a quick summary of a chapter in the Bible, join us for the journey in our chapter summary series and learn a lot in the process. Now back to 2nd Samuel chapter 11 summary.
David Suckered In by Temptation
The story here is that the kings of the area went out to war, however David sent generals. Yep, the king himself stayed back. One evening, he saw a drop-dead-gorgeous woman bathing on her rooftop (much like the photo above).
We like to think she did this on purpose to get the king's attention, but we don't know that for sure. What we do know is that she was fully able to garner the king's attention. This led David to enquire about her, and he learned she was a married woman. In fact, she was married to a man enlisted in his army, Uriah the Hittite.
Ideally, all pursuits should have stopped there for the king, but David was possessed with her beauty and curves, her full-figured-voluptuousness, and the fact that she was bathing nude for him to see.
He sent for her and they enjoyed a nice evening together; an evening she later had to inform the king resulted with a bun in her oven. David was in trouble now. Upon this information, David began to plot how to fix the matter without public shame. He'd lustfully gotten himself into with the lady, Bathsheba, the wife of Uriah the Hittite, and needed a way out.
The Wife of Uriah the Hittite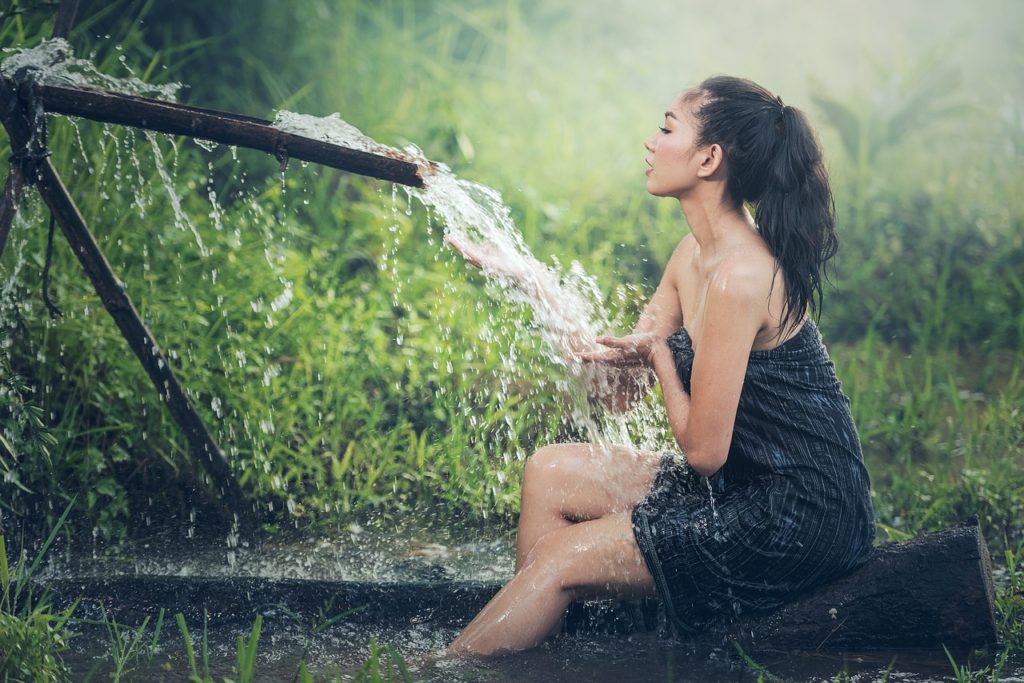 Uriah was a good man, a citizen in the kingdom and realm of Israel. He was one who cared for the people, still his captain did this to him. David's first idea was to attempt to have Uriah come home from battle, lay with his gorgeous wife, then go back to battle.
It didn't work because Uriah didn't feel right laying with his wife while his brothers were out battling in the field.
David then tried to get him drunk so he would sleep/lay with his wife. He would then pass off the child as Uriah's; that also did not work. David finally decided to kill poor Uriah. The son of Jesse would do this by sending him into the frontlines of the fiercest battle Israel was in at the time.
Worse than that, Uriah took the letter from David to the general, his death inscribed in the letter. Uriah is killed and the news is sent to the king and to Uriah's widow. She mourns for her husband, but after her mourning, she is summoned to become David's wife and has his son. Looks like he got away with adultery and murder huh?
No!
The entire episode was recorded by the LORD. The LORD was also sorely displeased that His captain would do such a thing. God isn't going to let David walk away clean from this abandonment of righteousness.
This is 2nd Samuel chapter 11 summary.
Selah
Thanks for joining us today, At BibleStudyMinistry.com (BSM), we believe the Bible is one assimilated story that leads to Jesus Christ, His Kingdom on the Earth, with His Royal Family; also that the Bible has a lot of profound and practical wisdom we all can use as we journey towards the Kingdom together.

Because of this, we share blog posts, study topics, chapter studies, current events, and all things pertaining to scripture, so we can share this story the best we can with you. We appreciate and are grateful for all your love and support in any way possible, even something as simple as sharing a post. Blessings to you.
BSM
Elder Ishe for BibleStudyMinistry.com, your online, Bible Supplement source!
Also, you're welcomed to join our newsletter, where we share more in depth studies and lessons in the Bible, we're sure 90% of Christians and people aren't quite aware of in subjects concerning Jesus Christ, history, prophecy, principle, and true gospel.
You'll get these studies weekly. Sign up right Today!
===
Share the article on your favorite social media outlet; help the Word flow out into all nations!