Genesis Chapter 29 Summary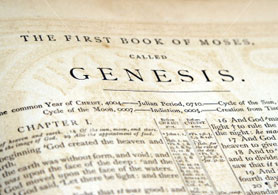 In Genesis twenty-nine, Jacob continues his journey east back to the land of his and his father's nativity in Haran.
When there, he runs into his uncle's daughter Rachel and immediately falls in love.
Laban, Rachel's father, heard of the love Jacob had for his daughter and decided to capitalize on it financially.  Laban knew it wasn't customary for the younger daughter to marry before the older, so he made a bit of a plan for Jacob to "buy one get one free."
Jacob agreed to work for Laban for seven years in order to marry Rachel, but on the wedding day, Jacob was drunken, and into the tent Laban slipped in Leah, his oldest daughter.
True Love & Commitment as Jacob Works for Rachel 14 Years
When Jacob learned of being duped by his now father in law, he was ordered to work for Rachel another seven years in order to have her. Fourteen years later Jacob finally weds Rachel, but soon finds she is unable to bare children.
Leah bares children for Jacob; Reuben, Simeon, Levi, and Judah, for Jacob.
Please Father add blessings to the reading and doing of Your Holy Word through Your Son Jesus Christ. So Be It!
We welcome you to join Our Newsletter for 9 Special Studies and a New Study Every Week Sent to Your Email Address in text, audio, or video form. Also you'll be first to know when we have live Bible studies online or prayer calls!
(have a twitter account? Follow us)
Share the article on your favorite social media outlet; help the Word flow out into all nations!