Genesis Chapter 20 Summary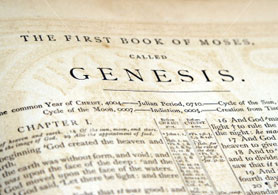 Abraham journeys to Gerar, a south country where he is entertained by a local king named Abimelech.
Abraham declares Sarah to be his sister, and Abimelech takes her into his bedchamber to be one of his wives.
However, God intervenes by giving Abimelech a terrible dream, even promising him death if he even as much as touched Sarah.
Abimelech pleaded with God that he didn't know she was the man's wife and that he innocently and with integrity of heart chose her to be his wife. Since God knew this, God still gave him the choice, return her or face death.
When Abimelech woke up the following morning, he called in all of his servants and reported his dream. He also called in Abraham immediately. Abimelech accuses Abraham of nearly making him commit a great sin (adultery).
They settle the score and Abimelech blessed Abraham and Sarah as they leave and God heals Abimelech's household.
Please it to the Most High God to add blessings to the reading and doing of His Holy Word through His Son Jesus Christ. So Be It!
You're welcomed to join Our Newsletter for 9 Special Studies and a New Study Every Week Sent to Your Email Address in text, audio, or video form. Also you'll be first to know when we have live Bible studies online or prayer calls!
Read Genesis Chapter 20 Here Now!
(have a twitter account? Follow us)
Share the article on your favorite social media outlet; help the Word flow out into all nations!