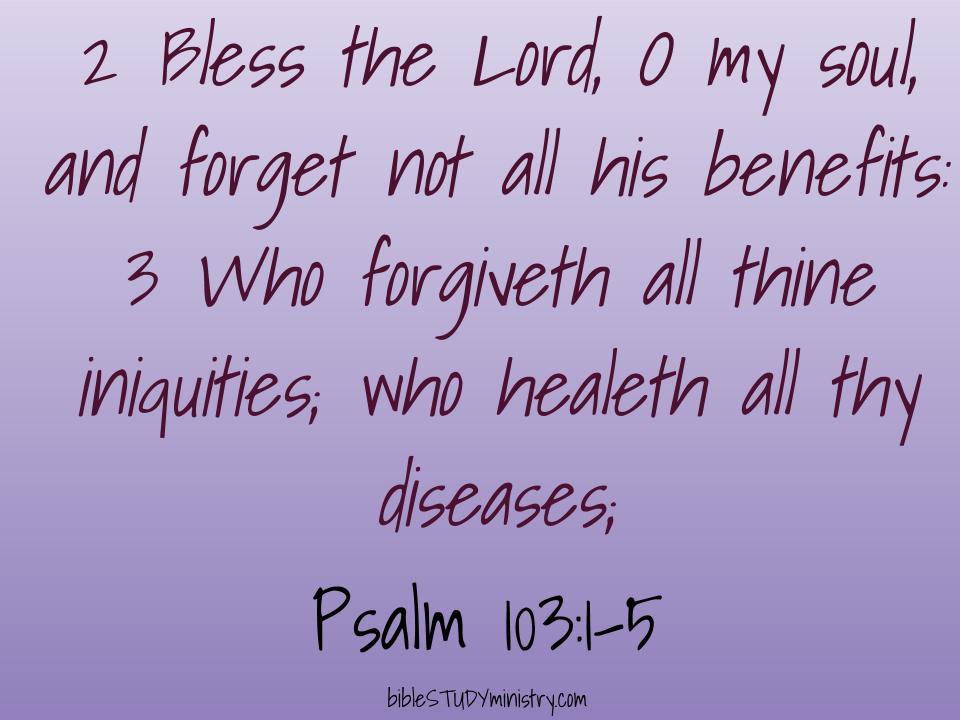 Who Healeth All Thy Diseases
Today's Devotional:
Psalm 103:1-5 (KJV)
1 Bless the Lord, O my soul: and all that is within me, bless his holy name.
2 Bless the Lord, O my soul, and forget not all his benefits:
3 Who forgiveth all thine iniquities; who healeth all thy diseases;
4 Who redeemeth thy life from destruction; who crowneth thee with lovingkindness and tender mercies;
5 Who satisfieth thy mouth with good things; so that thy youth is renewed like the eagle's.
Alleluia ! Amen!
Our prayer:
Dear Heavenly Father, no good thing will You withhold from those who walk uprightly. Thank you for loving us and blessing us in Jesus' Name, Amen.
Love you always!
BSM
Thank you for joining us today, it's always a pleasure to have you. BibleStudyMinistry.com (BSM), believes the Bible is one assimilated account leading and pointing to Jesus the Messiah, His Kingdom on the Earth, and His Royal Family.
BSM also believes the Bible has a lot of profound and practical wisdom everyone can use in the journey of life and towards the Kingdom of the Lord.
We appreciate and are grateful for all your love and support in all ways possible, even something as simple as leaving a cool or encouraging comment. Blessings to you.
===
Share the article on your favorite social media outlet; help the Word flow out into all nations!