Peace and grace from Bible Study Ministry, this is a day  God has made, we should rejoice and be glad in it. Below we have some wise words from Proverbs, worth a ton in gold, and will be helpful to your walk with Jesus Christ and the Father. Get understanding with all things, AND wisdom is the principle thing, therefore let us receive it today. This wisdom  will lengthen our days! God bless you this day!
Daily Wisdom Bible Study – In All Thy Ways Acknowledge Him
1 My son, forget not my law; but let thine heart keep my commandments:

2 For length of days, and long life, and peace, shall they add to thee.
Do not forget God's law and keep your mind on obeying God's commandments all the days long. Doing them will add peace to your life, and lengthen your days.
In All Thy Ways Acknowledge Him – Daily Wisdom
3 Let not mercy and truth forsake thee: bind them about thy neck; write them upon the table of thine heart:

4 So shalt thou find favour and good understanding in the sight of God and man.
Mercy and truth are two quality instruments, two jewels that you need to keep around your neck and in the forefront of your mind. Mercy, so that by showing mercy, we also can obtain mercy; truth so our path may be clear to walk straight. In doing this, we will find favor and have a good understanding in the sight of God, and also with man.
Are You Pure in Your Own Eyes?
5 Trust in the Lord with all thine heart; and lean not unto thine own understanding.
At times we know the right way to do something, but because we have gotten so emotionally involved, we attempt to fix the matter ourselves and lean on our own understanding. This is a mistake! Trust in the Lord God with all of your mind (heart).
In All Thy Ways Acknowledge Him
6 In all thy ways acknowledge him, and he shall direct thy paths.
Whichever path in life we take, if we acknowledge the God of Heaven and Earth (Jesus), the Lord will direct our paths. It is a great thing to feel the power of the Lord leading you down the paths of righteousness (for His names sake).
7 Be not wise in thine own eyes: fear the Lord, and depart from evil.
Depart from evil by remaining in constant fear and reverence of God, avoid being wise in your own eyes! In Job chapter 28 (and verse 28), Job tells us what departing from evil is; it is when we finally gain understanding!
That's our daily wisdom Bible study for today, God bless you for joining us, and God bless and establish you for applying them into your life daily. Don't forget to look into other studies we have on our website, join our newsletter, if you have YouTube, subscribe to our YouTube Channel, follow us on Twitter, and like our Facebook page. We thank you and God bless you in Jesus name!
BibleStudyMinistry.com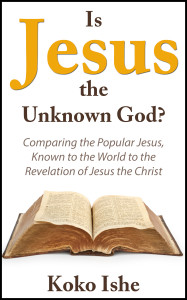 What is going on? We just had a great launching of our new book, Is Jesus the Unknown God? last week and it was a success, the book was free on Kindle for Download. We are excited and we hope you got a chance to download this book for free, if not no worries, we'll have another free promo in about 3 or 4 months! Don't want to wait that long? Just purchase the book for a love gift amount, as all funding through books go into continued work of the Lord. Thank you and God bless you!
Also, you can read our book and share it with others, and we CERTAINLY WOULD LOVE COMMENTS AND FEEDBACK ON AMAZON or on our website! God bless!
Share the article on your favorite social media outlet; help the Word flow out into all nations!