Peace and grace from Bible Study Ministry, this is a day  God has made, we should rejoice and be glad in it. Below we have some wise words from Proverbs, worth a ton in gold, and will be helpful to your walk with Jesus Christ and the Father. Get understanding with all things, AND wisdom is the principle thing, therefore let us receive it today. This wisdom  will lengthen our days! God bless you this day!
Daily Wisdom Bible Study – Who the Lord Loves He Corrects
9 Honour the Lord with thy substance, and with the firstfruits of all thine increase:
This is a big one that many people fall short on, even I was and am guilty of this one. Some of us feel because we are making little we don't have to give our firstfruits to the Lord; whereas some of us are making too much and begin to stop thinking spiritually (as in giving to God) and believe we are giving to the man (some cases woman) preaching from the pulpit. We are giving to the GOD of Heaven and Earth. Honor Him with the firstfruits of ALL your increase! As it was told to me, God is the best business partner in the world; He only requires 10% of the increase!
10 So shall thy barns be filled with plenty, and thy presses shall burst out with new wine.
This is why it is good to honor the Lord, so your house will be filled with plenty!
Who the Lord Loves He Corrects
11 My son, despise not the chastening of the Lord; neither be weary of his correction:
If your house is not filled with plenty, and you are honoring God with the firstfruits of all your substance, the Lord may just be chastising you for prior sins (God does aggregate on prior sins – He forgives but does aggregate). Do not despise God's chastising and certainly do not get tired of God's correction. Remember Genesis chapter 4 if you do, and remember Cain!
12 For whom the Lord loveth he correcteth; even as a father the son in whom he delighteth.
If you are going through hard times, remember Jesus loves those whom He corrects. If you're not walking straight and corrections don't happen, perhaps you are not walking as straight as you believe. If a child crashes his father's car after taking it out for a late night drive without permission (stealing); if the dad replaces the car and does not correct the child or give any discipline, the dad does not love that child! Likewise, the Lord towards upward if we are treated as such!
13 Happy is the man that findeth wisdom, and the man that getteth understanding.

14 For the merchandise of it is better than the merchandise of silver, and the gain thereof than fine gold.
Those who find wisdom and get understanding are thrilled because that wisdom and understanding is better than gold because it can get all the gold one needs!
Who the Lord Loves He Corrects – Daily Wisdom
That's our daily wisdom Bible study for today, God bless you for joining us, and God bless and establish you for applying them into your life daily. Don't forget to look into other studies we have on our website, join our newsletter, if you have YouTube, subscribe to our YouTube Channel, follow us on Twitter, and like our Facebook page. We thank you and God bless you in Jesus name!
BibleStudyMinistry.com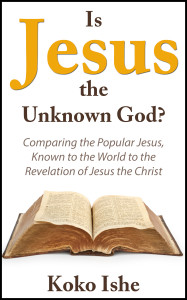 What is going on? We just had a great launching of our new book, Is Jesus the Unknown God? last week and it was a success, the book was free on Kindle for Download. We are excited and we hope you got a chance to download this book for free, if not no worries, we'll have another free promo in about 3 or 4 months! Don't want to wait that long? Just purchase the book for a love gift amount, as all funding through books go into continued work of the Lord. Thank you and God bless you!
Also, you can read our book and share it with others, and we CERTAINLY WOULD LOVE COMMENTS AND FEEDBACK ON AMAZON or on our website! God bless!
Share the article on your favorite social media outlet; help the Word flow out into all nations!