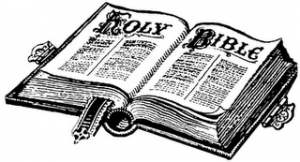 A Study of Psalm Chapter 119
This is one long chapter and should stand on it's own.  Jesus authored this one completely and you will see how often it is referred to that man should keep God's commandments.  I do not think it is humanly possible to see that Jesus wants to keep the Father's commandments so much in this chapter, and then suddenly say "the Laws are no more because I died for you on the cross, because you broke my laws that I was able to keep when I became a man just like you."
That sounded ridiculous and so should anyone who teaches you not to keep the commandments because Christ kept it all for you. I'm going to highlight verses that refer to keeping His laws, commandments, statutes, judgments, and ordinances.
6Then shall I not be ashamed, when I have respect unto all thy commandments. 8I will keep thy statutes: O forsake me not utterly.  10With my whole heart have I sought thee: O let me not wander from thy commandments.
16I will delight myself in thy statutes: I will not forget thy word. 18Open thou mine eyes, that I may behold wondrous things out of thy law. 19I am a stranger in the earth: hide not thy commandments from me.
20My soul breaketh for the longing that it hath unto thy judgments at all times. 21Thou hast rebuked the proud that are cursed, which do err from thy commandments.
This is just verse 20
23Princes also did sit and speak against me: but thy servant did meditate in thy statutes. 26I have declared my ways, and thou heardest me: teach me thy statutes.  29Remove from me the way of lying: and grant me thy law graciously.
30I have chosen the way of truth: thy judgments have I laid before me.  32I will run the way of thy commandments, when thou shalt enlarge my heart. 33Teach me, O LORD, the way of thy statutes; and I shall keep it unto the end.
34Give me understanding, and I shall keep thy law; yea, I shall observe it with my whole heart. 35Make me to go in the path of thy commandments; for therein do I delight.
I really think this is enough because there is over 100 verses in this Psalm.
43And take not the word of truth utterly out of my mouth; for I have hoped in thy judgments. 44So shall I keep thy law continually for ever and ever. 47And I will delight myself in thy commandments, which I have loved.
48My hands also will I lift up unto thy commandments, which I have loved; and I will meditate in thy statutes.
Jesus loved the Lord's commandments.  Shouldn't we, if we are following Jesus?
51The proud have had me greatly in derision: yet have I not declined from thy law. 52I remembered thy judgments of old, O LORD; and have comforted myself.
53Horror hath taken hold upon me because of the wicked that forsake thy law. 54Thy statutes have been my songs in the house of my pilgrimage.
55I have remembered thy name, O LORD, in the night, and have kept thy law.  60I made haste, and delayed not to keep thy commandments.
61The bands of the wicked have robbed me: but I have not forgotten thy law.  I have to stop here.
Too many references to keeping the law, loving the commandments, His statutes are good, chasing after keeping the law, being afflicted but not veering from keeping the commandments.  So let's just read the rest of the chapter and enjoy what the Lord has spoken.
71It is good for me that I have been afflicted; that I might learn thy statutes. Sometimes it is good that we were afflicted or go through or have gone through tough times by the Lord because it maybe allowed us to take time and study His word harder to learn to keep His ways.
73Thy hands have made me and fashioned me: give me understanding, that I may learn thy commandments.  I pray to the Lord for more understanding each day; and it's all so that I can learn and keep His commandments.
74They that fear thee will be glad when they see me; because I have hoped in thy word.  This is why I know this is Jesus writing; because we'd love to see David; but those of us who fear the Father will be very glad when we see Jesus because we have been hoping in the Father's Word.  Jesus said He only spoke what the Father told Him to speak and nothing else.  So during the disciples day those that feared God were happy to see Jesus.  Likewise, during the last days when Jesus returns, those that fear the Father will be happy to see Jesus as well.
7O how love I thy law! it is my meditation all the day.
98Thou through thy commandments hast made me wiser than mine enemies: for they are ever with me.
99I have more understanding than all my teachers: for thy testimonies are my meditation.
100I understand more than the ancients, because I keep thy precepts.
Look at what knowing and doing the law and the commandments can do for you.  It can make you wiser than the ancients, and all your teachers, because you have understanding of things that they do not.
142Thy righteousness is an everlasting righteousness, and thy law is the truth. If the truth shall set you free, then the keeping of God's laws will set you free.
160Thy word is true from the beginning: and every one of thy righteous judgments endureth for ever.  The Lord's words are true from the beginning and they endure for ever.  In the beginning God said let there be light.  It is also written that these are the beast you should eat and these you should not.  It says keep the Sabbath day holy, it says keep the commandments.  If those are true from the beginning then why are the commandments not allowed in schools.  Why are they not taught vigorously in the churches and to the children?  This is something to think about.
176I have gone astray like a lost sheep; seek thy servant; for I do not forget thy commandments.  This is fitting last verse, even when we go lost like sheep, we still are not to forget the Lord's commandments.  The keeping of God's commandments are life eternal.
Koko Ishe
Be sure to sign up for our newsletter to receive more Bible studies and to study with us weekly. God bless in Jesus name.

Share the article on your favorite social media outlet; help the Word flow out into all nations!